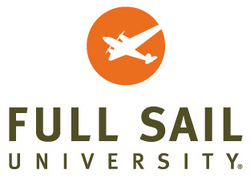 "Recognizing the need for professionals in the sports industry who understand the new media landscape, Full Sail designed this degree to meet the needs of both the industry and the sports focused individual looking to build a lasting career."
Winter Park, FL (PRWEB) November 16, 2010
Full Sail University (fullsail.edu) is proud to announce the launch of its new Sports Marketing and Media Bachelor of Science Degree Program, for which the curriculum will be available entirely online. The degree program is scheduled to enroll its first class in early 2011.
The Sports Marketing and Media Bachelor of Science Degree, a 32-month online program, was designed to help produce the next wave of valuable contributors and leaders by giving them the tools to create and control content necessary for use in the evolving sports industry. Students will develop and refine skills in modern marketing concepts and practices which have become increasingly crucial for communication, game operations, sponsorship and revenue generation throughout the various types of companies that comprise the sports business. Such companies include leagues, franchises, collegiate athletic departments, agencies, management companies, sports media outlets, and sponsors.
This degree addresses content creation by providing students with a balanced skill set of technical expertise and an understanding of successful design aesthetics and brand execution as it pertains to sports marketing. Students will also gain knowledge in core business and marketing concepts as they apply to sports media, business models, sports marketing and research, public relations, sports law and contracts, and licensing and intellectual property.
During the culmination of this collaborative, project-based online curriculum, the Sports Marketing Final Project course allows students to create and produce a targeted sports marketing campaign, by challenging them to address the evolving needs of progressive sports businesses with innovative marketing strategies.
Through the use of Full Sail's online platform, students are able to gain access to course information 24 hours a day, while participating in an innovative way to interact with instructors and fellow students via the Internet. To further facilitate connectivity, Full Sail Sports Marketing and Media students will engage the curriculum through an Apple MacBook Pro which comes to them through Full Sail's Project LaunchBox, and which serves as their personal workstation throughout their education and into their careers.
"Recognizing the need for professionals in the sports industry who understand the new media landscape, Full Sail designed this degree to meet the needs of both the industry and the sports focused individual looking to build a lasting career," said Josh Mora, Program Director of the Sports Marketing and Media Bachelor of Science Degree. "Full Sail University is at the forefront of providing experiential based learning for numerous entertainment fields, which now includes sports. As graduates from other Full Sail programs have previously realized success in the sports industry, we feel very well positioned to enter this space, and we are excited to announce this new and innovative degree program."
About Full Sail University:
Since 1979, Full Sail University, located outside of Orlando, FL, has been an innovative educational leader for those pursuing careers in the entertainment industry. With over 34,500 alumni, graduate credits include work on OSCAR®, Emmy® and GRAMMY®-winning projects, best-selling video games, and #1 grossing U.S. concert tours. Full Sail's 191-acre campus and online education platform proudly welcomes over 12,400 students from 50 states and 49 countries.
Full Sail currently offers a total of 33 campus and online degree programs including: Associate of Science Degrees in Graphic Design and Recording Engineering; Bachelor of Science Degrees offered in: Computer Animation, Digital Arts & Design, Digital Cinematography, Entertainment Business, Film, Game Art, Game Design, Game Development, Graphic Design, Internet Marketing, Mobile Development, Music Business, Music Production, Recording Arts, Show Production, Sports Marketing & Media, and Web Design & Development; Bachelor of Fine Arts in Creative Writing for Entertainment; Master of Science Degrees in Education Media Design & Technology, Game Design, Entertainment Business, Internet Marketing, New Media Journalism; and Master of Fine Arts Degrees in Creative Writing and Media Design.
Full Sail was named the 2008 "School/College of the Year" by the Florida Association of Postsecondary Schools and Colleges. The university has also been previously named: The Harvard of Game Schools by Tips & Tricks Magazine; one of the top three New Media Schools by Shift Magazine (alongside the Massachusetts Institute of Technology and New York University); one of the Top Five Game Degree Programs in the world by Electronic Gaming Monthly; one of the Best Music Programs in the country by Rolling Stone Magazine; one of the Best Music Business Departments in the Schools That Rock: The Rolling Stone College Guide; and one of the Best Film Programs in the country by UNleashed Magazine.
For more information about Full Sail, please visit http://www.fullsail.edu.
# # #