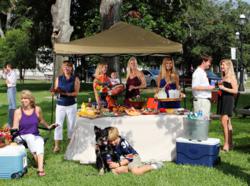 BeASportsDiva.com was created to help female sports fans stay connected to all things sports, life and style.
Pensacola, FL (PRWEB) September 14, 2012
Sports Diva LLC, a digital media and e-commerce company founded by mother-daughter duo Mona Amodeo and Lindsey Braxton Shook, announces the release of BeASportsDiva.com, an innovative sports website for women. The website provides a unique online experience with sport news and gossip, lifestyle and wellness tips, college city guides, cultural notes, game day apparel and much more.
Co-Founder Lindsey Braxton Shook explains why BeASportsDiva.com's multi-faceted content platform already resonates with women of all ages. "We began last year with a grassroots movement that built an engaged group of over 1000 female sports fans from across the country. Now we're making it easier for women to find the sports news they care most about, while also delivering relevant and timely lifestyle and cultural features to enhance their everyday lives."
In addition to sports news, live feeds and features, BeASportsDiva.com features several lifestyle-oriented categories and offers fashion-forward game day clothing and accessories from top collegiate designers.
"Sports fans looking for ladies game day apparel have really responded well to our growing selection of quality products," said co-founder Mona Amodeo. "But it is not just about looking good on game day. We believe in giving back by supporting the dreams of deserving women. A percentage of retail merchandising profits are allocated toward collegiate scholarships for women each year, empowering the next generation of Sports Divas through the financial support of their educational endeavors. We were thrilled to award our first scholarships this year!"
Perhaps one of the most valuable game day resources for women is the college City Guide, a helpful tool featuring feedback from the community of Sport Divas and their favorite hot spots in college towns across the country. The City Guide provides all the helpful information ladies need, from where to stay, to each city's top restaurants and favorite neighborhood watering holes, under-the-radar boutiques and outdoor recreation suggestions. The goal is to help women enjoy every moment of their college game day weekend and beyond.
"Our mission is to inspire and empower women, and with the launch of BeASportsDiva.com, we have created a website that provides an engaging environment where women are encouraged to join the conversation, share their perspective on sports, life, and style, and find the motivation and support for their goals and interests – on and off the field," says Braxton Shook.
# # #
For more information, please visit BeASportsDiva.com, or contact Lindsey Braxton Shook, Lindsey(at)beasportsdiva(dot)com, 850-462-8930.