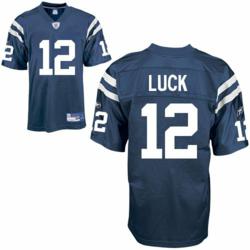 Detroit, Michigan (PRWEB) May 25, 2012
The Sports Fan Playground (sportsfanplayground.com) announced on Tuesday that the jerseys for the #1 and #2 overall NFL Draft Picks - Andrew Luck and Robert Griffin III - are available at up to 71% off the retail price.
Andrew Luck is the new (and most likely) starting quarterback for the Indianapolis Colts, replacing Peyton Manning. Luck led the University of Stanford to an 11-1 season and an Fiesta Bowl birth in 2011-12. In his last season at Stanford, Luck threw for 3517 yards, 35 touchdowns and 10 interceptions.
Robert Griffin III is the current Heisman Trophy winner from the University of Baylor. He was drafted #2 overall by the Washington Redskins. As a senior at Baylor, Griffin threw for 4,293 yards, 37 touchdowns and only 6 interceptions.
The Sports Fan Playground also carries jerseys from teams across the NFL including the new Peyton Manning Denver Broncos jersey and the new Tim Tebow New York Jets jersey.
The company carries sporting goods and items from the NFL, NBA, MLB, NCAA, NASCAR, WWE, and international soccer leagues, as well as sporting equipment for basketball, baseball, football, soccer, boxing, golf and more.
For more information, visit sportsfanplayground.com.