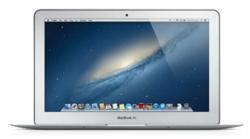 Los Angeles, CA (PRWEB) September 29, 2012
The 2012 editions of the Apple Macbooks are available for shipping at SportsFanPlayground.com. The systems, the Macbook Air and Macbook Pro laptops, are highly regarded as the top notebook computers in the industry among consumers.
The Macbook Air 11.6-Inch laptop computer is available for 949.00, while supplies last at the store. The system features a 64GB solid-state drive, 4 GB of DD3 RAM, Intel HD graphics 4000, the Mac 10.7 OSX Mountain Lion operating system, usb 3.0 flash storage,and a 720p facetime HD camera.
For all laptop users, battery life is a key question, and with the MD223LL/A system, worktime is 5 hours, with up to 30 days of standby time. The processor is a Intel Core i5, with 1.7 GHz speed, which can accelerate up to 2.6 GHz with the Turbo Boost Technology.
SportsFanPlayground.com also features deals on various accessories for the Apple Macbooks, with deals up to 80% off on replacement batteries and adapters.
For more information, visit SportsFanPlayground.com.