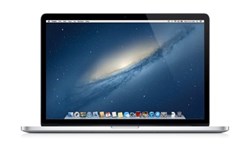 Detroit, MI (PRWEB) September 30, 2012
SportsFanPlayground.com announces that the online store now has the new Macbook Pro laptop computers with retina displays available for immediate shipping.
Currently, the store has the retina display models in 2 versions - the MacBook Pro and the MacBook Pro MC976LL/A, both in 15.4 inch displays.
The retina display on the new Macbooks gives over 5 million pixels - 2 million more than HD televisions - and the pixel density is so strong that the human eye is not able to disguish single pixels from a viewing distance and area.
Some of the other specifics include -

7-hour battery life
512 GB of flash storage
4.4 lbs in weight
8 GB of installed RAM, extendable to 16GB
2.6 GHz Intel Core i7 quad-core processor
The system also comes with a free upgrade to Mac OSx 10.8 Mountain Lion.
SportsFanPlayground.com also has deals on various accessories and games for the Xbox 360 game console. The store has the 12-month Xbox 360 Gold Membership Card available for $40.99, while supplies last. The gold card allows for a gamer to play games online, as well as watch various media packages on the Xbox, including Netflix, Hulu Plus, Facebook, HBO Go, XFinity, and more.
For more information, visit SportsFanPlayground.com.
SportsFanPlayground.com On Social Media -
Facebook - Facebook.com/sportsfanplayground
Twitter - Twitter.com/sportsfanplay
Pinterest - Pinterest.com/fanplayground
The True Sports Fan Sports Blog - Sportsfan1984.com
Sports Fan Playground on Google Plus
Sports Fan Playground on Wordpress
About SportsFanPlayground.com -
The Sports Fan Playground is a leading provider of top sporting goods and accessories from the NFL, NHL, MLB, NCAA, WWE, UFC, Barclays Premier League, and other top organizations around the world. The website recently added a special Nike store section, as well as classic sports memorabilia and accessories from the major professional and college sports leagues. The store recently expanded its inventory to carry the top sporting goods equipment for all sports including MMA, baseball, hockey, football, cheerleading, golf, soccer, lacrosse, rugby, bowling, camping, hiking, snowboarding, skiing, boxing, boating, cycling and many more.
The Sports Fan Playground has also expanded into electronics by carrying an extensive variety of video game products for the Xbox One and Playstation 4 consoles; high quality IT solutions from Cisco, Lenovo, Apple and others; Xbox 360 and Playstation 3 consoles, games and accessories; HDTV systems and accessories; DVDs and blu-ray titles from the NFL, MLB, UFC, WWE, NBA, NCAA and NHL; popular tablets from Apple, Amazon, Samsung, and Asus, and laptop computers from Apple, Sony, Samsung and more.
Along with the top sporting goods and electronics, the Sports Fan Playground has begun to carry a variety of shoes for men, women, and children from Nike, Adidas, Reebok, Converse and the Jordan brand, at low prices. To go along with the athletic shoes, the Playground offers deals on exercise and fitness products and accessories, including nutrition supplements, exercise equipment and popular exercise videos including the P90X and Insanity DVD sets.
The company recently launched a variety of specialty blogs that will be used to promote various sporting goods and electronics sales throughout the year, as well as speak on a variety of sports topics that are pertinent on a daily basis. The blog that is hosted on Blogger - The True Sports Fan (sportsfan1984.com) will be the sports opinion blog, and the Wordpress (sportsfanplayground.wordpress.com) will be used to announce the store's sales and promotions, as well as running special contests, taking polls and more.