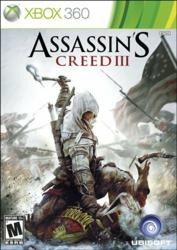 Detroit, Michigan (PRWEB) September 15, 2012
Assassin's Creed III is available for preorder at SportsFanPlayground.com. The game will be available on Xbox 360, Playstation 3, Playstation Vita and the upcoming Nintendo Wii U. The release date is set for October 30. The game for the Nintendo Wii U has not been announced for a release date.
Assassin's Creed III is an action-adventure game based in the third person point of view, and allows players to play as an assassin hunting remnants of the ancient Templar order during the American Revolutionary War. The game is the fifth overall release in the popular Assassin's Creed franchise. The game is rated mature.
The game features many new features including - an all new assassin character, a link to Desmond Miles' character from earlier games, gameplay spread over decades, naval combat, Native American weapons, a new physics engine, animation and new weather systems, and multiplayer gaming featuring new characters.
SportsFanPlayground.com also has deals on the Xbox Live 12-Month Gold Membership card, which is currently available for $42.99. The Xbox Live card is a consumers' media outlet on the Xbox 360, with the ability to use social apps such as Netflix, HBO Go, Hulu, YouTube and more.
The store has a variety of accessories, games and consoles for the Playstation 3, including the new game release, NHL '13, EA Sports' popular hockey franchise. The latest game in the series features the biggest innovation for the franchise in years. NHL '13 accurately captures the speed, creativity, and strategy of today's NHL with revolutionary True Performance Skating.
The game allows gamers and friends to sync up to the real-world of hockey in GM connected, the first-ever online multiplayer dynasty mode with cooperative and Online Team Play. With core gameplay innovation, connected experiences, and the deepest feature set in the history of the series, NHL '13 has helped to redefine the standard for a definitive hockey experience. While supplies last, the game is priced for the Playstation 3 at $44.99.
For more information, visit SportsFanPlayground.com.
About the Sports Fan Playground -
SportsFanPlayground.com is a leading online e-commerce provider of sporting goods and fan apparel from the NFL, NHL, MLB, NBA, NCAA, UFC, WWE and other top leagues from around the world. The store also has a variety of electronics which range from tablets, PCs and cameras to video games, DVDs, Blu-Ray Discs, appliances, lawn and garden products and more.
The store also carries the top brands in electronics and apparel including, Nike, Adidas, Apple, Sony, Samsung, Microsoft, EA Sports, and many more. The company recently began its initial expansion into clothing and jewelry and will continue to expand over the next several months.
The store recently launched an food delivery service to further the growth of its brand. The service will allow for food items to be delivered in bulk, such as meats, breads, breakfast items, and more.