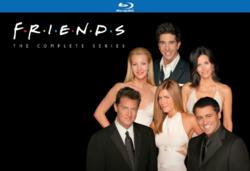 Detroit, MI (PRWEB) July 17, 2012
SportsFanPlayground.com announced on Tuesday that the store is now taking preorders for the release of the hit TV 90's series "Friends," which will contain all of the episodes of the series available in a blu-ray collection for the first time.
Friends gained its popularity starting from its debut in 1994 all the way to the end of the series in 2004. The show was based on 6 trendy hipsters living in Manhattan and going through ups and downs with life, dating, and working day-to-day.
The show starred Jennifer Aniston, Matthew Perry, David Schwimmer, Lisa Kudrow, Matt LeBlanc, and Courteney Cox.
The set will contain 21-discs - all 236 episodes - along with a 32-page booklet with content from the Warner Bros. Archives.
For more information, visit SportsFanPlayground.com.
On Social Media -
Facebook - Facebook.com/sportsfanplayground
Twitter - Twitter.com/sportsfanplay
Pinterest - Pinterest.com/fanplayground
Google Plus - plus.google.com/115104847008351751780
About SportsFanPlayground.com -
The Sports Fan Playground specializes in apparel and memorabilia from the NFL, NBA, NHL, MLB, International Soccer, NCAA and many more. The store is a leading online e-commerce provider of electronics which range from tablets, PCs and cameras to video games, DVDs, Blu-Ray Discs, appliances, lawn and garden products and more.
The store also carries the top brands in electronics and apparel including Nike, Adidas, Apple, Sony, Samsung, Microsoft, EA Sports, and many more. The company recently began its initial expansion into clothing and jewelry and will continue to expand over the next several months.