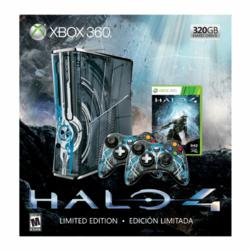 Detroit, Michigan (PRWEB) April 27, 2013
SportsFanPlayground.com announced on Saturday that the store will begin offering markdowns on the various Xbox 360 consoles incluidng the Halo 4 Xbox 360 Limited Edition Bundle.
The bundle comes with the Halo 4 standard edition game, a customized Xbox 360 exterior designed by the makers of Halo, 2 custom wireless controllers with blue LED lights and rotating directional pad, and Halo sound effects for when the game is being turned on and off and during eject processes.
The Sports Fan Playground is also offering markdowns on the Halo 4 game itself, the standard edition and limited edition versions. In the limited edition, the game features access to nine different maps, bonus content via the Xbox Live subscription service (sold separately), and the special edition of Halo 4: Forward Unto Dawn, a 90-minute extended version of the live-action digital series.
For more information, please visit SportsFanPlayground.com.
On Social Media -
Facebook - Facebook.com/sportsfanplayground
Twitter - Twitter.com/sportsfanplay
Pinterest - Pinterest.com/fanplayground/xbox-360
Google Plus - plus.google.com/115104847008351751780
About SportsFanPlayground.com -
The Sports Fan Playground specializes in apparel and memorabilia from the NFL, NBA, NHL, MLB, International Soccer, NCAA and many more. The store is a leading online e-commerce provider of electronics which range from tablets, PCs and cameras to video games, DVDs, Blu-Ray Discs, appliances, lawn and garden products and more.
The store also carries the top brands in electronics and apparel including Nike, Adidas, Apple, Sony, Samsung, Microsoft, EA Sports, and many more. The company recently began its initial expansion into clothing and jewelry and will continue to expand over the next several months.