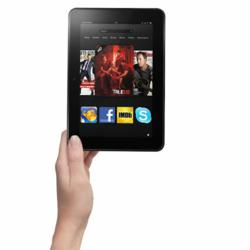 Detroit, Michigan (PRWEB) September 07, 2012
The new Kindle Fire HD is now available for preorder through SportsFanPlayground.com in the 32GB, 16GB and 8GB models. The 8GB and 16GB models will be released on September 14 with price point of $159 and $199 respectively, while the 32GB model will be released on November 20 for $499.
The new 8GB model features a 40% faster processor than the previous Kindle Fire, with a longer battery life and double the memory. The new tablet also features integration for social media tools such as Facebook, Twitter, Hotmail, Yahoo! and other applications to keep users connected. The Fire HD allows for over 22 million movies, songs, magazines, apps, books and audiobooks to be viewed on the device.
The 16GB model features the qualities listed above, along with a 1280 x 800 HD display and Dolby audio and dual driver stereo speakers for top quality sound. The Kindle Fire HD 32GB model features an available 4G LTE wireless internet service via AT&T.
For more information, please visit SportsFanPlayground.com.
About SportsFanPlayground.com -
The Sports Fan Playground is a leading online e-commerce provider of sporting goods and fan apparel from the NFL, NHL, MLB, NBA, NCAA, UFC, WWE and other leagues from around the world. The store also has a variety of electronics which range from tablets, PCs and cameras to video games, DVDs, Blu-Ray Discs, appliances, lawn and garden products and more.
The store also carries the top brands in electronics and apparel including, Nike, Adidas, Apple, Sony, Samsung, Microsoft, EA Sports, and many more. The company recently began its initial expansion into clothing and jewelry and will continue to expand over the next several months. The Sports Fan Playground is also beginning accepting banner ads from companies and individuals around the world. For more information, visit SportsFanPlayground.com.