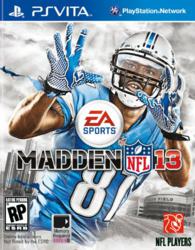 Detroit, Michigan (PRWEB) May 19, 2012
Sports Fan Playground (SportsFanPlayground.com) has begun taking preorders on Madden 13 for the Playstation Vita. This is the first football game that has been introduced for the Playstation Vita since the Vita's debut earlier this year.
The latest edition of the popular NFL game, created by EA Sports, features brand new commentary by CBS Sports announcers Jim Nantz and Phil Simms, updated career mode including rookie cut days and in-season hot and cold streaks for individual players.
Since its introduction, the Madden series of NFL games have consistently become some of the most popular games on the market in history, in any genre for any platform.
The Playstation Vita handheld console has become one of the strongest gaming systems worldwide, generating over 1 million units sold since arriving on the worldwide market.
SportsFanPlayground.com also announced a sale of 43% for the new game Prototype 2 for the PS3 and Xbox 360. Some of the features for the game include -

New York Zero An All New Open-World Hunting Ground. This Limited edition is only available while supplies last.
Your unique RADNET code unlocks an awesome mix of over 55 exclusive in game events themed rewards and friend vs. friend score based challenges. Hunt Kill Become.
The Power of Tendrils
Customize Your Killer
For more information, visit SportsFanPlayground.com.
About Sports Fan Playground -
SportsFanPlayground.com is a Michigan-based leading provider of sporting goods and electronic products including video games, televisions, tablets, phones, GPS units, appliances, and more. The sporting goods products are from the NFL, NBA, MLB, NCAA, UFC, WWE and more.