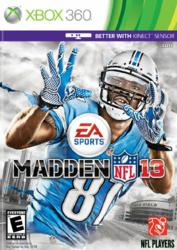 Detroit, MI (PRWEB) August 28, 2012
Madden NFL 13 is officially available and ready for shipping at SportsFanPlayground.com. The game, which features NFL superstar and Detroit Lions Wide Receiver Calvin Johnson, is available on Xbox 360, Playstation 3, Nintendo Wii, Playstation Vita and later this year, the new Nintendo Wii U console.
The game is particularly special on the Vita, which also has the option for a special Playstation Vita Madden 13 bundle. The bundle includes the actual game and a Playstation Vita console.
The game has been upgraded in terms of a new announce team (CBS Sports Jim Nantz and Phil Simms), strong reaction to the play on the field, better artificial intelligence, and an overall enhancement to the entire gaming experience.
For more information, please visit SportsFanPlayground.com.
On Social Media -
Facebook - Facebook.com/sportsfanplayground
Twitter - Twitter.com/sportsfanplay
Pinterest - Pinterest.com/fanplayground
Google Plus - plus.google.com/115104847008351751780
About SportsFanPlayground.com -
The Sports Fan Playground is a leading online e-commerce provider of sporting goods from the NFL, NHL, MLB, NBA, NCAA, UFC, and WWE, among other leagues worldwide. The store also features a variety of electronics which range from tablets, PCs and cameras to video games, DVDs, Blu-Ray Discs, appliances, lawn and garden products and more.
The store also carries the top brands in electronics and apparel including, Nike, Adidas, Apple, Sony, Samsung, Microsoft, EA Sports, and many more. The company recently began its initial expansion into clothing and jewelry and will continue to expand over the next several months.