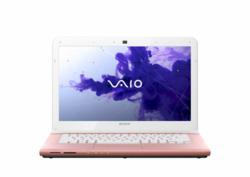 Detroit, MI (PRWEB) October 01, 2012
SportsFanPlayground.com has deals of up to 15% on various Sony VAIO laptop computers, while supplies last.
The store currently has the Sony VAIO E series SVE14112FXP 14-Inch laptop in seashell pink available for $549.99. The system is loaded with powerful features that allow it to hold its own in any category including a 2.4 GHz Intel Core i3 dual-core processor, 6 hours of battery life, 6GB of memory, and a 640 GB hard drive.
The system includes various software that allows for the user to share music, movies, and create stylish DVD and blu-ray discs, including Vegas, Acid, Soundforge, and DVD Architect.
SportsFanPlayground.com currently has a 25% markdown on Madden NFL 13 for the Xbox 360. Madden 13 is the NFL's newest entry into the football game category for 2013.
The game received a complete overhaul for the 2013 version with new commentary from CBS Sports' Jim Nantz and Phil Simms, a new gameplay overhaul engine with better and more realistic player impact, and the game is compatible with the Xbox 360 Kinect system.
For more information, visit SportsFanPlayground.com.
Facebook - facebook.com/sportsfanplayground
Twitter - Twitter.com/sportsfanplay
Pinterest - pinterest.com/fanplayground
About SportsFanPlayground.com -
SportsFanPlayground.com is a leading online e-commerce provider of electronics which range from tablets, PCs and cameras to video games, DVDs, Blu-Ray Discs, appliances, lawn and garden products and more. The store recently began taking preorders on the upcoming Nintendo Wii U and its games and accessories.
The store also carries the top brands in electronics and apparel including Apple, Sony, Samsung, Microsoft, EA Sports, and many more. The company recently began its initial expansion into clothing and jewelry and will continue to expand over the next several months.