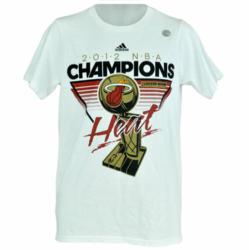 Detroit, Michigan (PRWEB) July 03, 2012
SportsFanPlayground.com announced on Tuesday that the company is now carrying championship apparel from the Miami Heat 2012 NBA Championship run and the Los Angeles Kings 2012 NHL Stanley Cup Championship. The apparel will include t-shirts, hats and the upcoming DVDs and Blu-Rays that are currently available for preorder.
The Miami Heat achieved their goal of winning an NBA Championship on the back of the "Big 3" - LeBron James, Chris Bosh, and Dwayne Wade. The team overcame the upstart Oklahoma City Thunder in five games to win the franchise's second NBA Championship and the first since the 2005-06 season.
The Los Angeles Kings had an improbable run to their championship, riding the back of goalie Jonathan Quick. The Kings were dominant all the way to the championship win over the New Jersey Devils in six games. The team is one of the few eight-seeds in sports history to go all the way and win a championship.
For more information on the items or any of the items in stock, visit SportsFanPlayground.com
About Sports Fan Playground -
SportsFanPlayground.com is a leading online electronics distributor of PCs, macbooks, iPads, iPods, tablets, video games, televisions, home appliances, and more. Recently, the company expanded their reach into jewelry, sporting goods and apparel. The company is based in Michigan.