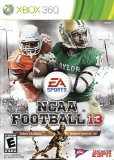 Detroit, Michigan (PRWEB) May 18, 2013
SportsFanPlayground.com currently has deals on the new NCAA Football 13 game for the Xbox 360 and Playstation 3 consoles. The game is marked down 33% off the retail price of $59.99 while supplies last.
The game features a new Heisman Challenge mode, which allows the player to compete in a season as a former Heisman Trophy winner and recreate their great season that allowed them to receive the award.
NCAA Football 13 also has new enhancements through its partnership with ESPN, with new commentary and score updates from ESPN anchor Rece Davis, along with live cut-ins and scoreboard updates from around the country.
Other features for the game include recruiting for high school players, enhanced game engine, more pregame and postgame traditions, and much more.
For more information, visit SportsFanPlayground.com.
About The Sports Fan Playground -
SportsFanPlayground.com is a leading online e-commerce provider of electronics which range from tablets, PCs and cameras to video games, DVDs, Blu-Ray Discs, appliances, lawn and garden products and more.
The store also carries the top brands in electronics and apparel including, Nike, Adidas, Apple Sony, Samsung, Microsoft, EA Sports, and many more. The company recently began its initial expansion into clothing and jewelry and will continue to expand over the next several months.
The store recently launched an online grocery store service to further the growth of its brand. The service will allow for food items to be delivered in bulk, such as meats, breads, breakfast items, and more.