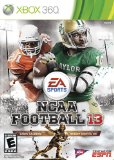 Detroit, Michigan (PRWEB) May 12, 2012
SportsFanPlayground.com announces the beginning of preordering for the upcoming college football game, NCAA Football 13 for Xbox 360 and Playstation 3.
This year's game will continue with the trend of simulating an authentic college football experience, with the branding of ESPN and its announcers Brad Nessler and Kirk Herbstreit, and will further enhance that experience by including in-studio updates from ESPN host Rece Davis, allowing for a full TV broadcast feel.
The game will also feature a new Heisman Challenge mode, which allows the player to take control of a Heisman Trophy winner from the past and recreate their great moments and games, in order to win the trophy again. 2 Heisman Trophy winners were given the honor of being on the cover of the game - Washington Redskins #2 overall pick Robert Griffin III (Baylor) and former Detroit Lions All-Pro Running Back Barry Sanders (Oklahoma State).
The traditional features such as the Dynasty Mode, Road To Glory, and pre-game team traditions are still in play for the 2013 version of the franchise.
Currently, the game is available for pre-order only on the Xbox 360 and Playstation 3 game consoles.
For more information, visit http://www.sportsfanplayground.com.
About Sports Fan Playground:
SportsFanPlayground.com is a leading online retailer of sporting goods from the NFL, NHL, MLB, NCAA, WWE, UFC and more. The store also carries a wide variety of consumer electronic products, including software, hardware, networking solutions, TVs, video games, blu-ray movies, computers, tablets and more.