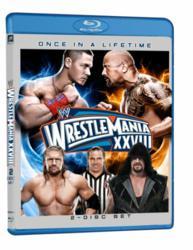 Detroit, Michigan (PRWEB) May 07, 2012
SportsFanPlayground.com is taking preorders on the latest installation of the Wrestlemania sports entertainment event, WWE Wrestlemania 28, which was held on April 1 in Miami.
The sets will feature the complete WWE Hall of Fame Ceremony as well as segments from the flagship show, Monday Night Raw, leading up to the event.
The main events featured John Cena facing The Rock, CM Punk vs Chris Jericho for the World Heavyweight Championship, and The Undertaker vs. Triple H with Hall of Famer Shawn Michaels as guest referee. Wrestlemania 28 also features live performances from artists Flo Rida and Machine Gun Kelly.
Wrestlemania is consistently seen as the major Superbowl-like event in sports entertainment. Over the years, the Wrestlemania event has brought in celebrities such as Pete Rose, Ray Charles, Aretha Franklin, Snooki, Mr. T, Limp Bizkit, and many others.
The DVD will be a 3-disc set while the Blu-Ray will be released as a 2-disc set.
SportsFanPlayground.com is a leading online marketplace that carries millions of sporting goods from the NFL, NHL, NBA, MLB, UFC, WWE and NCAA, as well as electronic products including tablets, laptops, home appliances, video games, televisions, and music.
For more information, visit http://www.sportsfanplayground.com.