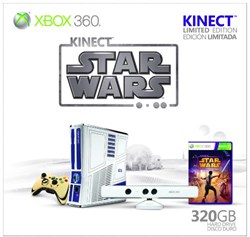 New York, NY (PRWEB) May 17, 2013
SportsFanPlayground.com is currently offering a new Xbox 360 250GB with the Xbox 360 Kinect for $319.99, nearly 20% off of the retail price.
The system features a 250GB Xbox 360 console, the Kinect hardware, Kinect Adventures and Carnival Games, and a complementary 3-month Xbox Live subscription.
The store also has the Xbox 360 Kinect Star Wars Bundle available for shipping. The Star Wars bundle features the new Star Wars Xbox 360 game, a 320GB Xbox 360 console, a custom white Kinect sensor, an Xbox 360 wired headset, and an Xbox Live token which can be used for downloadable content.
With the new Halo 4 game preparing to be released on November 6, the store is taking preorders on a special edition Xbox 360 Halo 4 bundle. The bundle features the Halo 4 game, two custom wireless Halo 4 controllers, custom content which is downloadable within the game including custom skins, avatar armor, avatar props, and a custom headset. The console itself has a 320GB hard drive, currently the largest available for the 360. This set will be available on November 6, the same day that the Halo 4 game itself is released.
For more information, visit SportsFanPlayground.com.
About The Sports Fan Playground
SportsFanPlayground.com is a leading online e-commerce provider of electronics which range from tablets, PCs and cameras to video games, DVDs, Blu-Ray Discs, appliances, lawn and garden products and more.
The store also carries the top brands in electronics and apparel including, Nike, Adidas, Apple, Sony, Samsung, Microsoft, EA Sports, and many more. The company recently began its initial expansion into clothing and jewelry and will continue to expand over the next several months.
The store recently launched an online grocery store service to further the growth of its brand. The service will allow for food items to be delivered in bulk, such as meats, breads, breakfast items, and more.