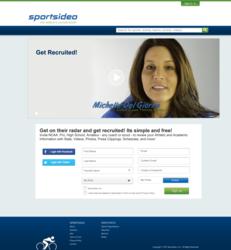 Huntington, NY (PRWEB) December 26, 2012
Sportsideo, the rapidly growing sports social network, announced today that it has launched Sportsideo's Get Recruited! - an easy to use software application connecting high school athletes with coaches and scouts in their sport. Sportsideo's Get Recruited! makes it easy for young athletes, and their families to connect with any coach or scout to share athletic profiles, awards, academic information, videos, photos, news reports, and much more.
"We designed Sportsideo's Get Recruited! with high school athletes and their families in mind – to enable them to simply connect with coaches and scouts," said Steve Vesce, Managing Director of Sportsideo. "There are lots of misconceptions out there about the athletic recruitment process. Our goal was to streamline that process for these young athletes, their families, and coaches or scouts. Sportsideo's Get Recruited! gives athletes and their families, as well as college scouts and coaches, an easy to use platform to share information and communicate with each other. Using Sportsideo's Get Recruited! is as simple as an athlete entering his or her athletic and academic information, uploading game, skills or practice videos, and inviting any NCAA or other coaches to see your entire profile. Sportsideo sends email invitations on behalf of the athlete, tracks the number of views an athlete's profile receives, and enables communication with a coach or scout. Best of all, Sportsideo's Get Recruited! is free to use," concluded Vesce.
Sportsideo has grown rapidly since the launch of its beta at the beginning of this year. The company began with a simple idea: celebrate sports experience by enabling athletes, coaches, scouts, fans, trainers, agents, nutritionists and news reporters – all of the participants in a sport – to connect and share knowledge their favorite sports. Sportsideo's mission seems to resonate with people who participate in more than 100 sports played around the world, and its unique brand of sports coverage has attracted the attention of a number of NCAA and Pro teams.
"We are really pleased with the growth of Sportsideo and the traction we are enjoying over the past couple of quarters, continued Vesce. "Sportsideo continues to be focused on celebrating each person's sports experience. Sports experience is a common experience that is shared by each person who participates in the game - whether you are the highest paid pro athlete or a weekend warrior – whether you coach a Big East Basketball Team or you are the coach of your 7 year old son's Tee Ball team – whether you live in the U.S., in Asia, or in Europe. The common experience of participating in a sport is universal. In addition to Get Recruited!, Sportsideo will be updating its platform in early January and introducing new features and functions that are all designed to enable our members to connect with others in their favorite sports and share their sports experiences."
About Sportsideo
Sportsideo is the fast growing sports social network of pro and amateur athletes, fans, coaches, scouts, trainers, nutritionists, execs, and news reporters. Connect with others in your favorite sports – share your sports knowledge and experience – collect High 5's and grow your Fan base. This is the "pro experience"- the same experience enjoyed by professional athletes whenever they enter their locker room – free, easy and instant access to the people and information in your sport. Sportsideo began with two simple beliefs: 1) Participating in sports is good and helps children and adults lead happier, healthier and more fulfilling lives; and 2) people who share sports experiences improve their understanding of, and respect for each other. You can see our pre-launch interview Fox News Live, Join Sportsideo at Sportsideo and keep current on the latest on Sportsideo by visiting Sportsideo's Facebook page, following us on Twitter, or visiting our Channel on YouTube.