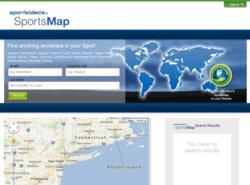 SportsMap is free and simple to use and it allows anyone to quickly locate sports leagues, teams, equipment, trainers, physicians, nutritionists - anything, anyone, anywhere in any sport
Huntington, NY (PRWEB) October 30, 2012
Sportsideo, the rapidly growing sports community, announced today that it has launched Sportsideo's SportsMap, a free and easy to use tool that enables anyone anywhere to find anything in their favorite sports – leagues, teams, tickets, equipment, trainers, physicians, apparel, awards, arenas, playing fields, stadiums – anything in any sport played anywhere in the world. Sportsideo members can save and store SportsMap location information to their Sportsideo Lockers or they can easily connect with others in the community via Sportsideo's new feature, SportsHigh5.
"We are very excited to introduce Sportsideo's SportsMap to the sports community. SportsMap is free and simple to use and it allows anyone to quickly locate sports leagues, teams, equipment, trainers, physicians, nutritionists - anything, anyone, anywhere in any sport," said Steve Vesce, Sportsideo's Managing Director. "We see SportsMap's capabilities as furthering Sportsideo's mission to develop sports participation in all sports played around the world. For those of us who are registered with Sportsideo, SportsMap enables us to connect and share information with others in Sportsideo's community while storing search results in our Sportsideo Locker for easy reference in the future. SportsMap is the first in a series of new capabilities that Sportsideo will introduce to the sports community over the coming weeks to further Sportsideo's mission of enabling and celebrating sports experience," concluded Vesce.
In addition to its search capabilities, Sportsideo allows registered members of Sportsideo, who are bloggers, equipment manufacturers, service providers, trainers, and others to easily access and place Sportsideo's SportsMap on their own websites. "Our goal is to provide everyone, anywhere with the opportunity to connect with others in their favorite sport," continued Vesce. "Sportsideo's SportsMap provides all of our members with a valuable tool to develop their own sports community while enabling access to others in their sport."
Visit and Use Sportsideo's SportsMap or get Sportsideo's SportsMap for your website here.
About Sportsideo
Sportsideo (Sports "for that reason") was founded by professional and amateur athletes to enable all sports participants to connect, improve, and achieve with others in their favorite sports. Sportsideo provides each member of our community with the same "pro experience" enjoyed by professional athletes whenever they enter their locker room – free, easy and instant access to professional and amateur Athletes, Coaches, Scouts, Officials, Agents, Executives, Healthcare Pros, Trainers, Nutritionists, News Reporters, and Sports Organizations. We began Sportsideo with two simple beliefs: 1) Participating in sports is good and helps children and adults lead happier, healthier and more fulfilling lives; and 2) people who share sports experiences improve their understanding of, and respect for each other. You can Join the Sportsideo community at Sportsideo and you can keep current on the latest on Sportsideo by visiting Sportsideo's Facebook page, or following us on Twitter.