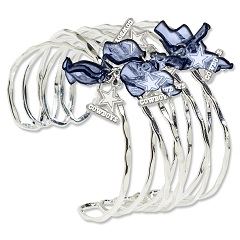 "Elegance and Style in Sports Jewelry"
Paradise, TX (PRWEB) December 28, 2012
The Sports Fan Jewelry Online team is excited about all of the new sports jewelry for women it is adding to its online catalogs. SF-JO wanted to offer female sports fans a selection of sports jewelry that would blend together elegance, sophistication and team support into one unique piece of sports jewelry. The SF-JO team accomplished their target in three different bracelet offerings.
The team first rolled out the "Premier Bead" line on December 5 and now they are adding two additional bracelets. One is a must have cuff bracelet called the "Celebration" and the other one is a stylish blast of color called the "Legend". All three of these new bracelets are now offered to sports fans supporting teams within the MLB, NFL and NHL and are now available in the Bead sections of the online SF-JO sports fan shop catalogs. The "Premier Bead" is also available in the NCAA online catalog.
The SF-JO team first offered the "Premier Bead". The "Premier Bead" is a barrel shaped charm measuring 3/8 inches in diameter with a 4MM opening allowing it to be displayed on a snake chain bracelet or necklace. This bead is offered in the SF-JO catalog as a single bead or as a bracelet on a snake chain. The charm is crafted in the finest sterling silver. The charm is encrusted with crystals that match team colors. Nestled among the crystals, is the team logo or team name. The logo or name is sculpted in raised relief and is highly polished to provide a striking contrast against the sparkling crystals.
The "Celebration" cuff bracelet the team is now adding to its catalogs has a slender flat silver tone wiring that gracefully curves around your wrist and opens in the back. The open work pattern and airy design allow a broad but delicate look while being lightweight and comfortable. The bracelet design resembles a set of bangles, which is the in style for jewelry this season. Adorning the front center of the cuff is a series of brightly colored petals mixed with clusters of team charms creating a standout statement. The bracelet measures 2 ¾ inches in diameter with a length of 6 ¼ inches. The bracelet comes packaged in an attractive organza bag.
The third bracelet is called the "Legend". This piece of sports jewelry is a statement of sophistication. The bracelet features four team colored stones in its center then smaller stones on each end. The stones are connected by circles of silver creating a stunning ray of color.
The SF-JO team wants its customers to know they are listening to the requests of sports fans and they will continue to update catalogs to meet fan needs. Shoppers can shop online at http://www.sportsfanjewelryonline.com and can participate in surveys and learn about featured items on their blog at sportslovetoday.com.
Although SF-JO carries online sports related jewelry and accessories in their online sports fan store, they have thousands of non- licensed jewelry and non-jewelry related items available for shoppers. Shoppers can contact SF-JO for special requests by email at cs(at)sportsfanjewelryonline(dot)com or by telephone at 1-800-728-7356 Monday-Friday, between 10:00am and 4:00pm Central Time.