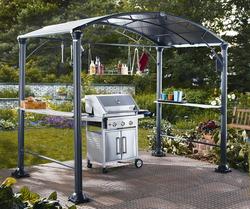 With this year's launch of the Outdoor Living Collection, The Sportsman's Guide team is once again pleased to offer our customers an unbeatable selection of quality, name brand products that will add enjoyment to an active, outdoor lifestyle
South St. Paul, MN (Vocus) March 25, 2010
The Sportsman's Guide®, a premier sporting goods brand in the portfolio of Redcats USA, announced today the launch of its 14th Annual Outdoor Living Mega-Collection featuring brand new items from the camping, home, garden and patio, and outdoor categories, at big discount prices.
The 2010 Outdoor Living Collection from The Sportsman's Guide® brings together a huge assortment of innovative, big name camping and outdoor gear and backyard items, plus stylish additions for home, patio and garden, designed to jazz up the coming spring and summer seasons. Nearly all of the biggest names in the outdoor business are represented, including: Coleman®, Timberland®, Columbia®, Slumberjack®, frogg toggs®, Eureka! ®, Kelty®, Intex®, Alpine® and Woodstream®, just to name a few.
"With this year's launch of the Outdoor Living Collection, The Sportsman's Guide team is once again pleased to offer our customers an unbeatable selection of quality, name brand products that will add enjoyment to an active, outdoor lifestyle," said Jay Berlin, CEO of The Sportsman's Guide®.
Check out a few of the "must-have" items for outdoorsmen below, all of which are offered in the just-available new catalog, simply titled "Outdoor SALE!"
Eclipse Backyard Grill Center - No wonder it's featured on the back cover of this year's catalog! Outdoor grilling is a way of life, and this is one item that will make any outdoor chef's heart beat faster! And that's before noticing the price tag…$1000.00 OFF, 77% OFF! What the cockpit is to a pilot, this sturdy aluminum Grill Center is to the grillmaster! It's got a spot for everything in a perfectly configured arrangement of shelves, racks, side tables and hooks that allows a truly customized, maximum efficiency, grilling experience every time. It's even got a curved roof in case the weather tries to dampen the experience, along with two rechargeable-battery-powered cornered lights that make satisfying cravings for an expertly prepared steak, burger or dog a 24-hour proposition.
10' Cantilevered Patio Umbrella - The singular design of this Patio Umbrella is the perfect intersection of design and practicality. With the main support off to the side and out of the way, it allows easy, custom placement, providing welcome heat-beating shade over patio tables, outdoor day beds, or kiddie pools, providing lots of shade, thanks to a huge 10-foot diameter polyester umbrella on its aluminum pole. It opens and closes quickly with an easy-to-turn crank arm, comes with a stable, heavy-duty metal base and is outfitted with corrosion-resistant hardware. Not to mention it's half price…$100.00 off, making it a cool accessory for a cool savings!
Guide Gear Simple Wigwam Tents - FAST, easy, hassle-free setup, plus plenty of space for the whole family to stretch out and relax! A Sportsman's Guide exclusive, these roomy Tents boast the classic lodge style that's withstood the test of time for centuries. Strong 800 denier polyester shell with 1,000mm waterproof coating provides dependable weather protection, while the bathtub-style floor keeps moisture out. Windows and vents allow cooling circulation. And truly, setup couldn't be easier…erect the center poles, stake out the guy ropes and…that's it! Three sizes of the same space-saving Wigwam design available, including 4-6 man; 8-10 man; and 12-14 man. Makes a great investment for any youth group or scout troop, too. Prices start at $90.
Guide Gear Truck Tents - Turn a pickup into a mobile home…instantly! Stop and find a hotel? No way. Not with one of these Truck Tents, which turns a man's truck into his castle! Each of the two sizes deploys in minutes in pickup beds, providing a fast, comfortable, fully enclosed shelter. Top-notch construction, excellent ventilation, adaptable options and a compatibility with full-sized pickups from Chevy, Ford, GMC, Nissan, Toyota, and more. These Truck Tents are lightweight, easy to set up, and have a large "D"-shaped door and mesh windows, along with sewn-in flooring all of which fits into a heavy-duty, weather-resistant polyester carry bag. From $69.97, with discounts up to 75% off!
Intex Rising Comfort Airbeds - Not like those old air mattresses, these are ultra-comfortable…easy to set up…simple to use in so many ways. Perfect for overnight guests. Or for camping to get off the cold, hard ground. Or for in the truck for unexpected overnight stays. The combination I-beam/wave-beam construction is patterned after a traditional mattress/box spring system to provide a comfortable, dream-filled night, just like at home. The built-in Fast Fill™ electric pump inflates quickly, and a porthole releases the air when it's time to pack. Or the double valve allows easy manual inflation. Flocked top keeps standard sheets in place. Queen-size and Twin-size available from $39.97, 40% off.
These five items can all be found in The Sportsman's Guide®'s "Outdoor SALE!" catalog, but the nearly 500 items in the catalog are just a small portion of the thousands of other Outdoor Living items found online at http://www.sportsmansguide.com. Like the Alpine Outdoor Fire Pit below, for instance. Product videos for several of these items, and many others, are also available online.
Alpine Outdoor Fire Pit - Gather around a warm, controlled fire that's sure to spark endless hours of camaraderie and entertainment. Good-looking rustic design highlights any patio or deck. Raised mesh-sided cupola (fancy top) offers decorative style, plus safety for pets and youngsters, as it keeps sparks and "floating" debris at bay. Easily removable with built-in top handle. Formed black steel enclosure and deck. Exterior has attractive 4"x4" milled wood for a rustic style. Interior has metal grate to allow air to reach firewood for sure burning. 14"x14" interior area for firewood placement. $130.00 off!
Located in the "Land of 10,000 Lakes," Minnesota, The Sportsman's Guide® has been outfitting the nation's outdoorsmen and women with big name, discount-priced outdoor gear and clothing for more than 40 years. The Sportsman's Guide® has long been noted for a huge selection, fast shipping, courteous hassle-free service and the strongest satisfaction guarantee in the business.
Perhaps most importantly, since its inception, the company has hung its hat on providing top quality, name-brand gear and clothing at prices that significantly undercut the competition.
To get the "Outdoor SALE!" catalog, go online to http://www.sportsmansguide.com and click on the "Request a Sportsman's Guide Catalog" box near the bottom of the home page.
About Redcats USA
Redcats USA is a dynamic, multi-channel, web-driven home-shopping leader, with numerous well-known brands in its portfolio: AVENUE®, Woman Within®, Jessica London®, Roaman's®, KingSize®, BrylaneHome® and BrylaneHome® Kitchen sold on OneStopPlus.com®, The Sportsman's Guide® and The Golf Warehouse®. Redcats USA offers a wide range of value and quality driven merchandise categories, including men's and women's plus-size apparel, home and lifestyle products, and sporting goods/outdoor gear. Redcats USA is a Redcats Group company.
About Redcats Group
Standing at the forefront of fashion, design and e-commerce, Redcats brings together 16 brands in home shopping : Avenue®, Woman Within®, Jessica London®, Roaman's®, KingSize®, BrylaneHome®, OneStopPlus.com®, The Sportsman's Guide®, The Golf Warehouse®, La Redoute, La maison de Valérie, Vertbaudet, Cyrillus, Somewhere, Daxon and Ellos, present in 30 countries. Redcats generated 3.386 billion euros of sales in 2009, including 47% on Internet and employs approximately 18,000 associates. Redcats distribution network combines e-commerce web sites (more than 60), catalogues and stores (more than 600). Redcats is a PPR Company. For any further information: http://www.redcats.com
Contact Information
Pat Cross,
Vice President, Corporate PR & Communications
Redcats USA
212-502-9315
# # #