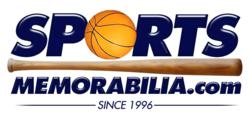 Miami, Florida (PRWEB) August 14, 2012
For the second straight year, online retailer SportsMemorabilia.com has been ranked in two categories on the Internet Retailer Second 500 list. The ecommerce retailer saw a jump in positioning. In 2011, SportsMemorabilia.com ranked 594th on the overall Second 500 Guide, and 14th in the Top 500 Merchandising category. This year, the business placed 518th on the 2012 Second 500 Guide and 5th in the Merchandising Category.
The 2012 rankings are based on a retailer's 2011 web sales performance. SportsMemorabilia.com is pleased to report a 63% growth in sales revenue. Major growth drivers for the previous business year include establishing a seasoned outbound sales team, and improving marketplace performance and positioning. In addition, SportsMemorabilia.com's in-house, custom framing options have skyrocketed in demand, now making it a necessity for memorabilia buyers. Offering quality framing at competitive pricing has made the Company a leading framing provider. SportsMemorabilia.com's core executive team all bring a background in online marketing to the business, in addition to their unbridled passion for all things sports. This has put the business in a truly unique position to dominate the online sport collectible retail market, through both organic search results and paid media advertising. Now that the Company is an established player within this industry, SportsMemorabilia.com can also leverage six year's worth of their own proprietary sales data in order to make informed inventory buying decisions within this one-of-a-kind collectible market.
While the domain itself dates back to 1996, it was acquired by co-founders Jesse Stein, Stefan Tesoriero, and Mike Gallucci in 2006. Since then, the business has shown consistent year-over-year growth. It has also established a well deserved reputation for providing only 100% authentic items, and for offering only the highest quality customer service. In addition to fans, SportsMemorabilia.com has cultivated a broad corporate client base, and has become the go-to destination for many sports bars, casinos, and restaurants.
In addition to being a monthly industry trade journal, Internet Retailer is the benchmark for all ecommerce business. Every year, the IR 500 list is used by the online retail community to gauge growth. As a business, SportsMemorabilia.com is proud to see itself moving up in ranking in two key categories, and looks forward to continued future expansion.