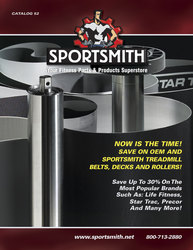 Tulsa, OK (PRWEB) September 29, 2008
SPORTSMITH™ is proud to announce the release of the 2008 SPORTSMITH™ Fall Edition Catalog, featuring the industry's largest selection of Fitness Equipment Parts, Treadmill Running Belts, Decks, Rollers, Strength Equipment and Fitness Products, all with express same-day shipping.
The 204-page catalog features savings of up to 30% on OEM and SPORTSMITH™ Brand Treadmill Running Belts, Decks and Rollers for popular brands such as Life Fitness, Star Trac, Precor and many more.
Each catalog is packed full of Maintenance Carts, Equipment Diagrams, Fitness Equipment Parts, Fitness Products and Maintenance Information for the most popular brands of fitness equipment such as Life Fitness, Star Trac, StairMaster, Schwinn, Precor, Landice and many others.
The SPORTSMITH™ Fall Edition Catalog further offers new expanded selections of Sports Performance Training items such as Agility Dots, Agility Domes, Mini Hurdles, Agility Ladders, Lateral Power Trainer and Nutrition featuring Zola Acai Super Fruit Juice™.
Functional training items include Fitness Boxing, Balance & Stability, Exercise Mats, Speed & Agility, Sports Specific Training, Fitness Assessment, Audio Accessories, Resistance Tubing & Bands, Weighted Resistance and more.
SPORTSMITH Indoor Cycling Products include parts for Schwinn, Star Trac V2™, V-Bike™ and RevMaster™.
Innovative strength training products feature Cybex Classic and VR2 Upholstered Pads, Cable Attachment Bars, Hardware and Accessories, Kettlebells, Dumbbells, Racks and International Bars.
A variety of the most popular functional training and core/balance products include Polar® Heart Rate Monitors, SportStep, the Original Health Club Step™, SPORTSMITH Resistance Bands, Medicine and Stability Balls, Yoga and Exercise Mats.
"The SPORTSMITH mission is to supply the most popular fitness equipment parts, the best functional and personal training products in the fitness industry with the benefit of hassle-free customer service, 24/7 online ordering and express same-day shipments," reported Brad Schupp, President.
All SPORTSMITH fitness equipment parts meet or exceed OEM specifications and include the full SPORTSMITH warranty.
Call 800-713-2880 to request a free catalog by mail.
Phone: 800-713-2880
International 918-307-2446
Email: info @ sportsmith.net
Web: http://www.sportsmith.net
Media Contact:
Troy Mosley, Marketing Manager
SPORTSMITH LLC
800-713-2880 Ext 223
###