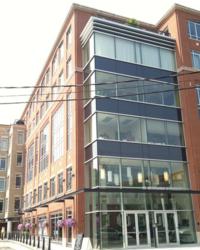 Expanding our offices in Saratoga Springs allows us to continue to tap into the talent in the greater Capital District of New York, a fantastic place to work and live.
Saratoga Springs, NY (PRWEB) June 26, 2013
SportsSignup, a national leader in online sports management solutions for sports organizations, announced today that it has relocated its headquarters offices in Saratoga Springs, N.Y., to accommodate current and future expansion.
The new headquarters is located at 18 Division Street, Suite 314, in Saratoga Springs. SportsSignup previously operated from a smaller suite of offices at the same Division Street address, and with the move has tripled its space to accommodate recent and expected growth in the organization.
The move follows a strong performance for SportsSignup in 2012, when the company made its first appearance on the "Inc. 500/5000" list of the nation's fastest growing private companies, ranking No. 134 of 318 companies in the software category.
SportsSignup, celebrating its 10th year of business in 2013, opened its first satellite office in Mesa, AZ, in April 2012 to service its growing roster of clients in the Western U.S. and Canada.
"SportsSignup's strong, steady growth and our expanding footprint across the continent is a real tribute to the talent and quality of our people, and our success in achieving our fundamental goals of protecting the personal safety of young athletes and making life easier for sports administrators," SportsSignup CEO Anthony Bruno said. "Expanding our offices in Saratoga Springs allows us to continue to tap into the talent in the greater Capital District of New York, a fantastic place to work and live."
SportsSignup has thousands of customers throughout the U.S. and internationally for its online registration, team communications and volunteer background checking services for youth sports. In recent years, the company has expanded into individual participation sports, offering online registration for such prominent events as the annual Freihofer's Run for Women, which draws thousands of runners each June to downtown Albany, N.Y., and the Troy Turkey Trot (N.Y.), which in 2012 set a record with more than 8,000 participants.
"SportsSignup is a tremendously innovative and successful company whose software and services help families by offering peace of mind and streamlining the registration process," Saratoga Springs Mayor Scott T. Johnson said. "I congratulate Anthony and his team and thank them for their commitment to Saratoga Springs. I look forward to their continued success."
For more information about partnering with SportsSignup for registration services, please visit http://www.SportsSignup.com.
About SportsSignup
SportsSignup, owned and operated by League Sports Services LLC, provides sports organizations and event organizers with easy-to-learn and easy-to-use integrated Software-as-a-Service (SaaS) solutions to facilitate online sports registration, coach/volunteer background checks and tournament registration. Since 2003, the company has been dedicated to operating a secure, affordable, and hassle-free online service suite that enables administrators from thousands of soccer, football, baseball, lacrosse, basketball, track and field, and many other sports organizations to easily automate many aspects of their duties. For more information about SportsSignup, please visit http://www.sportssignup.com. Follow SportsSignup on Twitter; like SportsSignup on Facebook; or watch the SportsSignup video to learn how to simplify sports management tasks.
####
©2013 League Sports Services LLC. The information contained herein is subject to change without notice. League Sports Services LLC shall not be liable for technical or editorial errors or omissions contained herein. The SportsSignup logo is a registered trademark of League Sports Services LLC. All other trademarks mentioned herein are the property of their respective owners.