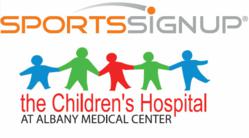 We're so proud to be associated with the Melodies Center and the many Freihoher's Run for Women and Junior 3K runners who joined us in supporting the work of this outstanding institution
Albany, NY (PRWEB) June 05, 2013
SportsSignup and the Freihofer's Run for Women today presented checks totaling more than $16,000 to the Melodies Center for Childhood Cancer and Blood Disorders at Albany Medical Center, a result of directed giving by participants in Saturday's Freihofer's Run for Women and matching donations from SportsSignup through its "Kids Helping Kids" campaign.
The combined donations were more than double the amount raised by the event to benefit the Melodies Center in 2012.
"We're so proud to be associated with the Melodies Center and the many Freihoher's Run for Women and Junior 3K runners who joined us in supporting the work of this outstanding institution," said Anthony Bruno, CEO of SportsSignup, a national leader in online sports management solutions for sports organizations that is based in Saratoga Springs. "I know firsthand just how much the Melodies Center does for children and families in the Capital Region and beyond. We are looking forward to continuing our partnership in supporting this race and promoting a healthy lifestyle for young people in the region."
Mr. Bruno's daughter, Isabella, is a Melodies Center patient.
SportsSignup, the presenting sponsor of the Freihofer's Junior 3K, matched each $10 registration fee for the race with a $10 donation to the Melodies Center. A record field of 207 runners between 9 and 13 participated in Saturday's race. In addition, SportsSignup is matching $7,075 in directed donations from Freihofer's Run for Women participants who chose to support the Melodies Center as part of their online race registrations with the simple click of a button on the registration page.
"Participants in the Freihofer's Run for Women show their determination and spirit every year, and now through our partnership with SportsSignup, they've proved themselves to be generous and community-focused as well," said George Regan, event director of the Freihofer's Run for Women. "These are women who through their example and involvement are making a positive difference every day, and we're honored by their participation in our event."
Runners in the Freihofer's Junior 3K, presented by SportsSignup, generated matching donations from SportsSignup for each $10 registration fee through a program branded "Kids Helping Kids".
"We can't thank SportsSignup and the Freihofer's Run for Women enough for their generosity and the impact they're helping to make on the lives of children and their families," said Dr. Vikramjit Kanwar, pediatric oncologist and director of the Melodies Center, who accepted the donations from Mr. Bruno and Mr. Regan. "We are very grateful to SportsSignup, the Freihofer's Run for Women and the children of the Capital Region who came out on a very warm day to run the race and support our work to improve the lives of sick children and their families. This is a terrific partnership that I hope will continue to grow in years to come."
About SportsSignup
SportsSignup, owned and operated by League Sports Services LLC, provides sports organizations and event organizers with easy-to-learn and easy-to-use integrated Software-as-a-Service (SaaS) solutions to facilitate online sports registration , coach/volunteer background checks and tournament registration. Since 2003, the company has been dedicated to operating a secure, affordable, and hassle-free online service suite that enables administrators from thousands of soccer, football, baseball, lacrosse, basketball, track and field, and many other sports organizations to easily automate many aspects of their duties. For more information about SportsSignup, please visit http://www.sportssignup.com. Follow SportsSignup on Twitter; like SportsSignup on Facebook; or watch the SportsSignup video to learn how to simplify sports management tasks.
###
©2013 League Sports Services LLC. The information contained herein is subject to change without notice. League Sports Services LLC shall not be liable for technical or editorial errors or omissions contained herein. The SportsSignup logo is a registered trademark of League Sports Services LLC. All other trademarks mentioned herein are the property of their respective owners.
Media Contact:
Bill Callen
Behan Communications, Inc.
bill.callen(at)behancom(dot)com
518-792-3856 or 518-480-9793