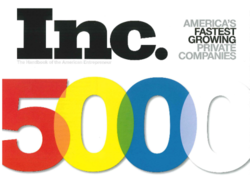 Saratoga Springs, NY (PRWEB) August 23, 2012
SportsSignup, a national leader in online sports management solutions for sports organizations makes its first appearance on the Inc. Magazine 500/5000 list of the nation's fastest growing private companies ranked #1687. SportsSignup's inaugural appearance in the ranking is even more impressive as it was ranked #134 out of 318 companies in the software industry The list represents a look at the most important segment of the economy – America's independent entrepreneurs.
SportsSignup provides the online tools needed for team based youth sports organizations to simplify their sports management tasks.
"To be ranked in the top third of America's fastest growing private companies is quite an honor," admits Anthony Bruno, CEO of SportsSignup. "I consider this a tribute to our entire team, who work tirelessly to simplify the online experience for thousands of sports organizations and millions of parents while at the same time keeping kids and information safe."
With thousands of customers across all 50 states, SportsSignup has provided its online registration, volunteer background checking, and concussion management services to sports organizations from coast-to-coast for almost ten years. As part of its rapid growth, earlier this year, the company opened a Mesa, Arizona office to provide additional customer service and sales beyond its corporate headquarters in Saratoga Springs, New York.
In a stagnant economic environment, median growth rate of 2012 Inc. 500|5000 companies remains an impressive 97 percent. SportsSignup contributes to the list of companies on this year's list report having created over 400,000 jobs in the past three years, and aggregate revenue among the honorees reached $299 billion.
"Now, more than ever, we depend on Inc. 500/5000 companies to spur innovation, provide jobs, and drive the economy forward. Growth companies, not large corporations, are where the action is," says Inc. Editor Eric Schurenberg.
The complete 2012 Inc. 500/5000 appears in the September issue of Inc. (and online at http://www.inc.com/inc5000/list/2012). The 2012 Inc. 500|5000 is ranked according to percentage revenue growth when comparing 2008 to 2011. To qualify, companies must have been founded and generating revenue by March 31, 2008. They had to be U.S.‐based, privately held, for profit, and independent—not subsidiaries or divisions of other companies—as of December 31, 2011. (Since then, a number of companies on the list have gone public or been acquired.) The minimum revenue required for 2008 is $100,000; the minimum for 2011 is $2 million.
About SportsSignup
SportsSignup, owned and operated by League Sports Services LLC, provides sports organizations and event organizers with easy-to-learn and easy-to-use integrated Software-as-a-Service (SaaS) solutions to facilitate online sports registration, e-commerce fundraising, and coach/volunteer background check management. Since 2003, the company has been dedicated to operating a secure, affordable, and hassle-free online service suite that enables administrators from thousands of soccer, football, baseball, lacrosse, basketball, track and field, and many other sports organizations to easily automate many aspects of their duties. For more information about SportsSignup, please visit SportsSignup.com. Follow SportsSignup on Twitter; like SportsSignup on Facebook; or watch the SportsSignup video to learn how to simplify sports management tasks.
About Inc.
Founded in 1979 and acquired in 2005 by Mansueto Ventures, Inc. is the only major brand dedicated exclusively to owners and managers of growing private companies, with the aim to deliver real solutions for today's innovative company builders. Total monthly audience reach for the brand has grown significantly from 2,000,000 in 2010 to over 6,000,000 today. For more information, visit http://www.inc.com.
About the Inc. 500|5000 Conference
Each year, Inc. and Inc.com celebrate the remarkable achievements of today's entrepreneurial superstars—the privately held small businesses that drive our economy. The Inc. 500|5000 Conference & Awards Ceremony brings together members of the Inc. community, both a new class of Inc. 500|5000 honorees and the list's alumni, for three days of powerful networking, inspired learning, and momentous celebration. Please join us October 3–5, 2012, at the JW Marriott Desert Ridge Resort & Spa in Phoenix, Arizona. For more information about the 2012 Inc. 500|5000 Conference & Awards Ceremony and to register, visit http://www.inc500conference.com or call 866-901-3205.
###
©2012 League Sports Services LLC. The information contained herein is subject to change without notice. League Sports Services LLC shall not be liable for technical or editorial errors or omissions contained herein. The SportsSignup logo is a registered trademark of League Sports Services LLC. All other trademarks mentioned herein are the property of their respective owners.