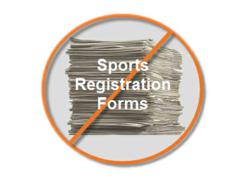 ...in honor of Earth Day, we have chosen to emphasize the amount of paper that is wasted by sports organizations that have not yet moved to online sports management.
Saratoga Springs, NY (PRWEB) April 18, 2012
To celebrate Earth Day, SportsSignup, a national leader in online sports registration management solutions for sports organizations has announced that its online registration platform has saved more than 500 tons of paper since the company's inception in 2003. The goal of streamlining the youth sports registration process has also been a boon for conservationists as the company projects it will save an estimated one hundred tons of paper in 2012 for more than 2,000 sports organizations across the U.S. that have converted from paper registration to SportsSignup's safe, convenient and "green" online sports registration process.
"There are many reasons why sports organizations should modernize their registration process, but in honor of Earth Day, we have chosen to quantify it by announcing that SportsSignup has conserved more than 500 tons of paper that would have been wasted by sports organizations had they not yet moved to online sports management," said Anthony Bruno, CEO of SportsSignup. "We encourage organizations that have not yet made the switch to serve as a powerful example for their community by converting to the safe, convenient and environmentally friendly world of online sports registration and other key sports services."
The process of registering one child for a sports team or event takes an average of eight sheets of paper. This includes the registration form, consent form, medical waiver, league information form, special notices, and flyers to advertise the league. This does not even account for the thousands of paper clips, staples, envelopes, file folders and other office supplies required for paper registrations. In contrast, registration with SportsSignup is paperless as all communication is managed electronically.
Sports leagues and events can benefit from SportsSignup's online sports registration in many ways. In addition to setting a good example for the community by going green, online registration reduces valuable volunteer time, allows local leagues to better integrate data, and saves parents time by allowing them to register at their convenience, from the comfort of their home, office or smart-phone.
About SportsSignup
SportsSignup, owned and operated by League Sports Services LLC, provides sports organizations and event organizers with easy-to-learn and easy-to-use integrated Software-as-a-Service (SaaS) solutions to facilitate online sports registration, coach/volunteer background checks and concussion management tools. Since 2003, the company has helped sports organizations conserve more than 500 tons of paper while being dedicated to operating a secure, affordable, and hassle-free online service suite that enables administrators from thousands of soccer, football, baseball, lacrosse, basketball, track and field, and many other sports organizations to easily automate many aspects of their duties. For more information about SportsSignup, please visit http://www.sportssignup.com.
©2012 League Sports Services LLC. The information contained herein is subject to change without notice. League Sports Services LLC shall not be liable for technical or editorial errors or omissions contained herein. The SportsSignup logo is a registered trademark of League Sports Services LLC. All other trademarks mentioned herein are the property of their respective owners.