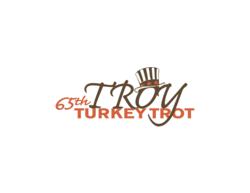 The Troy Turkey Trot is a wonderful event for families and participants of all ages and abilities. We're thrilled that event organizers count on our service to help them manage registrations and thereby enhance the overall race experience
Saratoga Springs, NY (PRWEB) October 19, 2012
Participants in this year's 65th Annual Troy Turkey Trot events will have the opportunity to support up to three outstanding local non-profit organizations when they register online.
SportSignup, a national leader in online registration management solutions for sports organizations, once again is partnering with the Troy Turkey Trot to provide fast, convenient, secure online registration for the estimated 7,000 runners and walkers who are expected to participate in the Capital Region's premier Thanksgiving Day sporting event.
SportsSignup's registration software has an integrated drop-down feature that allows users to designate a charitable donation when registering for an event. Registrants for the 65th Annual Troy Turkey Trot may select from among the Regional Food Bank of Northeastern New York, the Troy Boys & Girls Club and the Lansingburgh Boys & Girls Club.
Registrants so far have voluntarily donated more than $1,900 to the three organizations.
"The opportunity to give back to our communities is something our employees appreciate and that we value as a company," SportsSignup CEO Anthony Bruno said. "We're pleased that our service can provide a gateway not only to the organizations we've partnered with for this event, but for worthy causes in communities throughout North America."
The 65th Annual Troy Turkey Troy features competitive 5-kilometer and 10-kilometer races, a Grade School Mile and the one-mile Turkey Walk. The Turkey Trot, which started with six runners in 1916, traditionally is among the most popular road races in the Northeast and a Thanksgiving Day tradition for families across the Capital Region.
This is the second year that SportsSignup has provided online registration and race management for the Troy Turkey Trot.
"The Troy Turkey Trot is a wonderful event for families and participants of all ages and abilities. We're thrilled that event organizers count on our service to help them manage registrations and thereby enhance the overall race experience," Mr. Bruno said. "We're proud of the service we offer to clients and partners throughout the nation, but it's especially gratifying to be part of such a special event so close to home, where our employees and their families can enjoy it as well."
SportsSignup has thousands of customers nationwide for its online registration, volunteer background checking and concussion management services for youth sports. In recent years, the company has expanded into individual participation sports, offering online registration for such prominent events as the annual Freihofer's Run for Women, which draws thousands of runners each June to downtown Albany.
Last year, for the first time, SportsSignup teamed with the Freihofer's Run for Women to become the presenting sponsor of the Freihofer's Junior 3K, a road race for boys and girls ages 8 to 13. The 2013 Freihofer's Junior 3K presented by SportsSignup will take place on Saturday, June 1. Registration for the event will open soon.
"Anthony and his team have built a tremendous, user-friendly system for securely managing information," Troy Turkey Trot Event Director George Regan said. "SportsSignup is the standard for online registration service, and the fact that it's a local company makes our partnership even more rewarding."
More information about the 65th Annual Troy Turkey Trot, including a link for online registration, is available at http://www.troyturkeytrot.com/.
About SportsSignup
SportsSignup, owned and operated by League Sports Services LLC, provides sports organizations and event organizers with easy-to-learn and easy-to-use integrated Software-as-a-Service (SaaS) solutions to facilitate online sports registration, coach/volunteer background check management and concussion management services. Since 2003, the company has been dedicated to operating a secure, affordable, and hassle-free online service suite that enables administrators from thousands of soccer, football, baseball, lacrosse, basketball, track and field, and many other sports organizations to easily automate many aspects of their duties. For more information about SportsSignup, please visit SportsSignup.com. Follow SportsSignup on Twitter; like SportsSignup on Facebook; or watch the SportsSignup video to learn how to simplify sports management tasks.
About Troy Turkey Trot
Now in its 65th year, the Troy Turkey Trot is the nation's 12th oldest road race and the 64th oldest road race in the world. The event, which draws more than 7,000 participants from 36 states and features a 5K, 10K, Grade School Mile and Turkey Walk, is designed to celebrate fitness, families and tradition against a backdrop of some of Troy's most historic neighborhoods. For more information and to register, visit http://www.TroyTurkeyTrot.com.
###
©2012 League Sports Services LLC. The information contained herein is subject to change without notice. League Sports Services LLC shall not be liable for technical or editorial errors or omissions contained herein. The SportsSignup logo is a registered trademark of League Sports Services LLC. All other trademarks mentioned herein are the property of their respective owners.