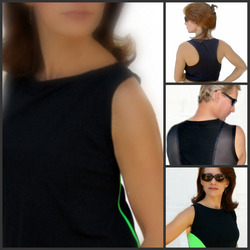 Typically, cool packs in these phase change vests can weigh up to 6 pounds--that's just too bulky and heavy to be comfortable.
Sacramento, CA (PRWEB) September 1, 2009
Today CooltechMarketplace.com launched three new Cooling Sportswear garments unique to the active wear industry--the Cooling Tee (T-Shirt for men and women), Cooling Sports Bra, and Cooling Cami (Camisole). Cooltech Marketing, Inc. believes its versatile sportswear containing lightweight, controlled temperature cool packs will appeal to diverse consumer groups--amateur and professional athletes who participate in everything from extreme sports to lunch-hour cardio workouts, sufferers of Multiple Sclerosis, women experiencing hot-flash symptoms of menopause, and those exposed or vulnerable to heat stress.
Cooltech's sportswear garments are made of a high-wicking, highly breathable stretch fabric. They can be worn as either under or outer wear. Each garment contains inside pockets--one running horizontally across the chest and one vertically down the spine--into which cool packs are inserted. The non-toxic, non-flammable formula contained in the polymer cool packs, weighing 15 ounces in the women's garments and 27.6 ounces in the Cooling Tee, is blended to set and hold a comfortable 58 Degrees F (14 Degrees C). Energizing the cool packs is quick and easy--30 minutes in the refrigerator or, to hasten the process, the packs can be immersed in ice water and ready in 15 minutes.
According to company founder and president Rebecca Lee, controlled temperature technology surpasses all other portable body cooling products that use ice, frozen gel or evaporative cooling. Because of its unique properties, the crystalline alkane blends not only cool longer than ice or gel of the same volume or weight but, more importantly, maintain a constant temperature from the beginning to the end of the cooling cycle. Evaporative cooling requires warm, dry circulating air to be effective. Garments are always damp against the skin, which breeds mildew, bacteria and odor. Not so with controlled temperature technology.
"Individuals suffering from Multiple Sclerosis--twice as many women as men--now have a more discreet, lightweight alternative to industrial-looking cooling vests," Lee says. "Typically, cool packs in these phase change vests can weigh up to 6 pounds--that's just too bulky and heavy to be comfortable."
Another advantage of the lightweight cool packs--Cooltech's new Cooling Sportswear is less than half the price of the cool vests.
Lee acknowledges that reducing the weight of the cool packs, by decreasing the volume of formula, sacrifices the longevity of the cooling properties. The new, lighter cool packs will last over two hours compared with the larger pack's four hours. Lee isn't concerned about this. "Two hours is enough time to win a race or free MS sufferers from the confines of their homes on a hot day."
Cooltech Marketing offers affordable, convenient and innovative body cooling solutions for consumers of all ages.
About CooltechMarketplace.com
CooltechMarketplace.com is the evolution of CooltechMarketing.com which launched in 2004 with its premier offering, Wine by Degrees, dubbed a wine cellar in a sleeve. Since then, Cooltech Marketing, Inc. continues to expand its advanced technology product line of personal body cooling products and winter warming apparel and accessories to benefit the lives of their customers.
CONTACT:
Rebecca Lee, President
Cooltech Marketing, Inc.
888-758 (COOL) 2665
http://www.CooltechMarketplace.com
###