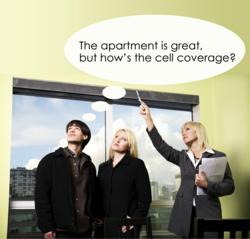 Our partnership with SON will benefit the multifamily residential community greatly by solving one of its major problems.
New Haven, CT (PRWEB) April 17, 2013
Spot On Networks, LLC ("SON") and Steam Wireless, Inc. ("Stream") today announced an agreement to form a partnership in which the two companies will provide complementary wireless services to multifamily residential and multitenant commercial building owners.
SON will provide its CellBoost™ family of services that add cellular coverage in multitenant buildings, in conjunction with Stream's SignalAssure℠ service offering to provide ordinance/code compliant in-building coverage for public safety users with portable radios.
"We are excited to partner with Stream for the provision of wireless services that answer both cellphone needs and Public Safety requirements on their unique frequency bands. Stream's staff have a long and comprehensive history in Public Safety that adds to SON's expertise applicable to in-building wireless services," according to Dick Sherwin, SON's Chief Executive Officer.
Stream's General Manager, John Facella, has 29 years of experience in public safety radio communications and is a member of the communications committees of both the International Association of Fire Chiefs and the International Association of Chiefs of Police and has been an active firefighter and EMT for nearly 30 years.
In announcing this partnership, John Facella said: "Providing Public Safety with reliable in-building communications is one of Stream's several areas of wireless expertise. Our new SignalAssure℠ service offering provides a total solution to the building owner for in-building communications for public safety. SignalAssure℠ will provide a design, installation, and long term maintenance of the system, all compliant to local codes and ordinances, ensuring that you can get your certificate of occupancy. Our partnership with SON will benefit the multifamily residential community greatly by solving one of its major problems".
About Spot On Networks, LLC: Spot On Networks is the largest Wireless Internet Service Provider to the multifamily industry. In addition to offering managed Wi-Fi services to the multifamily, hospitality and commercial industries, Spot On Networks has a range of wireless services including CellBoost™, a cell coverage enhancement service, and WiFiPlus+®, its wireless backbone integrated with energy management, building automation and security monitoring.
About Stream Wireless, Inc.: Stream Wireless is a wireless implementation services firm, with experience in both public safety and cellular carrier systems. Stream Wireless has performed wireless implementation across the U.S., in a variety of roles, and with multiple technologies. SignalAssure℠ provides public safety agencies with turnkey code compliant in-building communications systems.