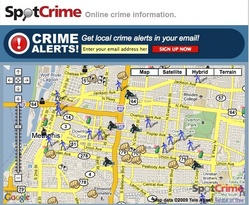 We strongly believe that intended and unintended positive social consequences will evolve from SpotCrime
Baltimore, MD (PRWEB) August 17, 2009
TV broadcast company Newport Television and SpotCrime, a data and news company that maps crime worldwide, will partner to provide local crime data to the public via stations the company owns in 22 markets nationwide.
 
The partnership marks the second major announcement in as many weeks for SpotCrime, the largest company in the world reporting and mapping crime via the Internet. SpotCrime recently agreed to provide local crime data to four television and cable stations owned by Belo, one of the country's largest pure-play, publicly-traded television companies.
Newport Television, which acquired Clear Channel Television in March 2008, owns 50 television stations in 22 markets across the country, as well as Inergize Digital®, the leader in fully integrated digital management solutions that generate revenue for local media companies.
SpotCrime will provide crime data for Newport-owned stations in Albany, NY (fox23news.com), Bakersfield, CA (kget.com), Bellingham, WA (kvos.com), Binghamton, NY (newschannel34.com), Cincinnati, OH (local12.com), Elmira, NY (wetmtv.com), Eugene, OR (kmtr.com), Fairbanks, AK (webcenter11.com), Fresno, CA (cbs47.tv), Harrisburg, PA (whptv.com), Jacksonville, FL (actionnewsjax.com), Little Rock, AR (fox16.com), Memphis, TN (myeyewitnessnews.com), Mobile, AL (nbc15online.com and utv44.com), Rochester, NY (13wham.com), Salt Lake City, UT (abc4.com), San Antonio, TX (woai.com), Syracuse, NY (9wsyr.com), Tulsa, OK (fox23.com), Watertown, NY (newswatch50.com), and Wichita, KS (foxkansas.com).
"SpotCrime is founded on the principle that information is power, and it is the right of every citizen to have easy access to crime information in their neighborhood," says Founder and President Colin Drane.
"We strongly believe that intended and unintended positive social consequences will evolve from SpotCrime," Drane explains. "With our information, citizens' awareness of their surroundings will increase and subsequently they will be able to make safer decisions. There is wisdom in the noise, and we hope to draw attention to crime hot spots to help direct policy and resources in the prevention of crime."
As an unbiased crime source, SpotCrime does not selectively report or judge crimes and is the only company mapping crime that does not partner with local police departments.
"Though we have great relationships with the police, we believe in complete transparency and independence, which ensures that we remain unbiased in our reporting," notes Drane.
 
In addition to the deals with Newport Television and Belo, SpotCrime partners with more than 50 other media companies to make crime data available. Other partners include WBAL-AM in Baltimore, NBC-29 in Charlottesville, The Austin Statesman, The Lakeland Ledger, and KLAS-8 Las Vegas.
 
For more information about SpotCrime, visit the company's website at http://www.spotcrime.com.  Additional information about Newport Television is available at http://www.newporttv.com.
# # #