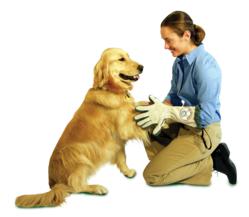 There is a lot of talk about how owners and their dogs have similar appearances. We wanted to put that to the test with our Match Game.
Boulder, CO (PRWEB) April 30, 2013
BrightSpot Solutions announces the release of their Spotless Paw Match Game. The game is based on the premise that dogs and their owners have similar appearances. The participant attempts to match pictures of five dogs to the pictures of their respective owners by dragging and dropping the picture of the dog next to the owner.Spotless Paw match game is free to play.
Currently the game consists of celebrities and their dogs. Match game players are encouraged to submit their own photos for future versions the game.
Players that earn a perfect score in the live game are automatically registered to win a free Spotless Paw Glove. The winner is chosen randomly from all of the players with a 5/5 score. Archived games are also available.
Scott Salzman, inventor of the six-fingered Spotless Paw Glove and president of BrightSpot Solutions noted, "There is a lot of talk about how owners and their dogs have similar appearances. We wanted to put that to the test with our Match Game." When asked about his success in playing the game he added, "I have good results basing my choices on the appearances. The premise holds up."
About Spotless Paw
The six-fingered, multiple award winning, dog paw grooming glove, manufactured from microfiber fabric, has been developed to resolve common pet owner problems.
Dog owners are often faced with the problem of how to protect their home and automobile from dirty paws. Spotless Paw removes foreign particles from dog paws, extracting outdoor allergens, excess pet allergens, and destructive particles. Destructive particles may include, but are not limited to: dirt, mud, oil, grease, feces and magnesium chloride (an increasingly used deicer).
Spotless Paw Dog Paw Cleaning Glove is designed with six fingers. This unusual design allows consumers to utilize both sides of the glove, and to use it on either the left or right hand. The glove will aid in the preservation of home furnishings, automobiles as well as promote owner and canine health.
Spotless Paw's effectiveness is due to the microfiber's increased absorbency in comparison to traditional materials. The high technology fibers are woven and split to create microscopic hooks that attract and hold dirt, water, mud, and debris. Microfiber cleans foreign particles efficiently off dog paws and holds up to six times its weight in such contaminants. This fiber can be used multiple times between washings. The glove cleans easily in the washer and dryer.
Awards and Recognition
Spotless Paw is the proud recipient of the APPA Best in Show Award and the H.H. Backer "Retailer Select" Award for Product Excellence. The glove has also been featured on the Today Show, CBS Early Show, Good Morning America, Real Simple Magazine and many other publications.
About BrightSpot Solutions
BrightSpot Solutions was founded by Scott Salzman in 2003 as an outlet for invention. BrightSpot has created an entity of unparalleled functionality and professionalism providing consumers and professionals with the absolute highest quality and functionality amongst its products. Our commodities promote healthy environments for humans and animals alike.
Members of the media interested in testing Spotless Paw for editorial review should contact Scott Salzman for a sample.
For more information about Spotless Paw visit: http://spotlesspaw.com.