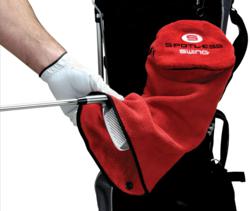 Spotless Swing has established itself among elite golfers.
Longmont, CO (PRWEB) June 28, 2013
BrightSpot Solutions®, LLC, maker of the Spotless Swing Golf Towel, has announced that their towels were used by several professionals at last week's Travelers Championship. Numerous players utilized the towels including a three top five finishers and two top ten finishers. The multi-use towels are also on the bags of recent Masters and US Open winners as well as professionals who have collectively won 14 PGA Tour titles, 30 victories on the Champions Tour and four Majors on the Senior Circuit.
Scott Salzman, owner of BrightSpot Solutions and inventor of Spotless Swing noted, "Spotless Swing has established itself among elite golfers. Not only are professionals using our towels, PGA and Champions Tour tournaments are using custom logoed Spotless Swing golf towels for their Pro-am events."
About Spotless Swing Golf Towel
Designed in the shape of an oversized head cover, Spotless Swing replaces the need for golfers to carry multiple towels and an awkward, messy brush.
Spotless Swing functions as three towels in one:
1. Outside keeps the hands, face, glove and grips clean and dry;
2. Inside protects and preserves golf clubs by removing dirt, mud and water;
3. Revolutionary MicroBrush™ fabric cleans club grooves effortlessly preparing the club for its next shot.
A portion of the inside of the multi-use golf towel is made of a uniquely designed MicroBrush fabric that easily cleans the grooves of the club-face where dirt hides from ordinary towels. The fabric is coarse enough to clean deeply into the grooves yet soft enough to not damage the golf club finish, and absolutely no water is needed. The ultra-high quality microfiber fabric that makes up main body of Spotless Swing absorbs over 600% of its weight in dirt, mud and water.
Spotless Swing is available in eight colors: Black (with red trim), Red (with black trim), Solid Black, Pink, Royal Blue, Navy Blue, Hunter Green and White. The golf towel conveniently attaches to any golf bag with the included carabineer clip.
Custom embroidery is available for Spotless Swing. The towels can be custom logoed for golf events or as a promotional golf product.
About BrightSpot Solutions, LLC
BrightSpot Solutions was founded by Scott Salzman in 2003 as an outlet for invention. BrightSpot has created an entity of unparalleled functionality and professionalism providing consumers and professionals with the absolute highest quality and functionality amongst its products. Our commodities promote healthy environments for humans and animals alike.
Members of the media interested in testing Spotless Swing for editorial review should contact Scott Salzman for a sample.
For more information about Spotless Swing or using Spotless Swing as a golf promotional product, visit: http://spotlessswing.com.