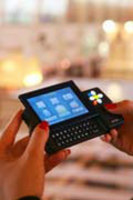 We were pleased with the performance of the new Spotme during our event
Lausanne, Switzerland (PRWEB) July 26, 2007
Shockfish SA, today, announced that Asia Luxury Travel Market (ALTM), a Reed Travel Exhibitions show, was the first to use the new Spotme in China.
"We have used the original Spotme at other shows and were eager to integrate the launch of the new Spotme with the debut of our latest show for the Asian market" said Serge Dive, Co-Founder of ALTM. "Our clients demand the latest innovations and the new Spotme is the most innovative product for the meetings market."
Each hosted buyer and exhibitor had personalized schedules that reflected their own pre-arranged appointments made before the show. The devices were updated in real time when new appointments were made. In addition, Spotme's searchable photo database and messaging service helped exhibitors identify and make appointments with other buyers that they were targeting. Spotme's new notes feature helped exhibitors and buyers take notes on conversations. These notes along with the business cards and photos were sent to participants, after the show.
"We were pleased with the performance of the new Spotme during our event," said Serge Dive, "and we look forward to using it again next year."
About Spotme
Spotme is a wireless communication service for meetings and events between 200 and 5,000 participants. The centerpiece of the service is a wireless handheld device. Spotme provides a full range of services ranging from instant messaging, organizer communication, networking, live voting, electronic feedback forms, attendance tracking, personalized agendas, one-to-one meeting management, and lead capture. To learn more visit Spotme.com.
About Shockfish SA
Shockfish SA is a privately held company based in Lausanne, Switzerland. Shockfish was founded in 1998. It designs and sells the Spotme service in the meetings industry and TinyNode in the wireless sensor network market. Spotme is the company's primary product.
###