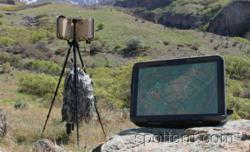 "The Best of What's New Award is the magazine's top honor, and the 100 winners − chosen from among thousands of entrants − each a revolution in its field."
Salt Lake City, UT (PRWEB) November 14, 2012
SpotterRF today announced the SpotterRF M600C radar has been named a 2012 Best of What's New Award recipient by POPULAR SCIENCE in the Security category. This breakthrough Compact Surveillance Radar system (CSR) weighs 4 lbs. and tracks people anywhere in 150 acres instead of the more familiar Air Traffic Control (ATC) radar that weigh tons and track aircraft. With a maximum range of 1000m for a tracking a walking person the SpotterRF M600C was built to provide elite security and military professionals the power or radar protection yet be small enough to put in a backpack.
"For 25 years, Popular Science has honored the innovations that surprise and amaze us − those that make a positive impact on our world today and challenge our view of what's possible in the future." said Jacob Ward, Editor-in-Chief of Popular Science. "The Best of What's New Award is the magazine's top honor, and the 100 winners − chosen from among thousands of entrants − each a revolution in its field."
Best of What's New rewards innovation and execution; products that transform their category; that solve an unsolvable problem; that incorporate entirely new ideas and functions. This accolade labels SpotterRF technology as revolutionary, not evolutionary.
Until recently, radar surveillance was only available for large force protection systems like BETSS-C or G-BOSS or top tier airports, such as JFK. With the simple Web User Interface accessible via smartphone or laptop, the ultra portable SpotterRF M600C, puts radar protection within reach of every military warfighter or security professional.
"We are pleased to receive this Popular Science recognition," says Logan Harris, CEO for SpotterRF. "The M600C has proven its ability to help protect the lives of our warfighters and the Critical Infrastructure here at home. Building on this success SpotterRF continues to innovate providing the best value for the protection of people and high value facilities. With affordable high performance compact radar even small airports, power plants, bridges, and other critical infrastructure and have radar protection."
The M600C's little brother, the new SpotterRF C40 offers the smallest, most powerful compact surveillance radar available anywhere. It was recently named a 2012 ASIS Accolades Best of Security recipient.
Spotter radar units come in four sizes, weighing less than 6 lbs. each, using less energy than a light bulb (just 10W each), and can communicate with Google Earth, RaptorX, Vidsys and other situational awareness software. Training takes less than 30 minutes in the field.
About SpotterRF
SpotterRF is world's leader in Compact Surveillance Radar (CSR) system for perimeter security and force protection. Made in the USA and engineered for extreme conditions, SpotterRF technology is the most compact, lightweight, energy efficient, and cost-effective radar for elite warfighters and critical infrastructure requirements. For a data sheet, visit http://spotterrf.com/