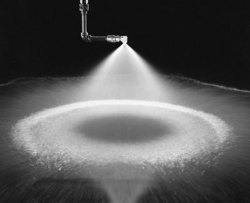 Middlesbrough, UK (PRWEB) March 23, 2010
A completely revamped website has just been launched by UK-based Sealpump Engineering providing a complete spray systems solution to business and industry. A must-visit online resource for anyone considering installation or updating of their industrial spraying systems. Site content includes coverage of the following topics, supported by easy-to-understand online animations:
Spray nozzles
Automated spraying systems
Tank cleaning / CIP
Specialised steel industry spray nozzles
Dust control
Odour control
Farris pressure relief valves
Humidification
An array of featured products and services reflect Sealpump's acknowledged role as a leading spraying system supplier. The company operates in sectors as diverse as mining, pharmaceuticals, steel making and the food industry. These, and many others, rely on spraying for safe, cost-effective and efficient processes.
As well as showcasing the Sealpump product and service range, the site demonstrates their special expertise in developing bespoke spray system solutions.
Spray nozzles feature prominently on the new site
From a fan nozzle to a mist nozzle, precision spray nozzle design and manufacture is key to efficient and reliable operation. The new website features the company's full range of spray nozzles. By visiting these spray nozzle pages, specifiers can quickly identify the nozzle system they require and see examples of the equipment in action.
Humidity control applications (including ultrasonic humidifier technology)
Humidification and humidification systems are vital for many industrial and commercial environments. It's therefore no surprise that the new site features a dedicated humidity control section. From heavy-duty industrial humidifiers to a bespoke ultrasonic humidifier installation, Sealpump offers the required products and expertise. Whether a solution is being sought for heavy industry or an antique-furniture warehouse, visitors will find full details of Sealpump services on the updated site.
Featuring dust control and dust suppression
The new website features enhanced information on dust control and bespoke dust control systems. In particular, an extended range of applications range from conveyor transfer points to wagon loading. This reflects the importance of dust control equipment for environmental compliance and more efficient, healthier workplaces. Site visitors may be particularly interested in the embedded video showing commissioning of one of Sealpump's dry-fogging systems at a coal unloading facility.
Tank cleaning for industry
Once an unpleasant manual task, tank cleaning is now easily undertaken by automated tank cleaning equipment (often using clean in place or 'CIP systems'). This is another Sealpump speciality, a fact that is reflected in the new website's information on tank cleaning services. These range from low pressure rotating sprays, through high pressure Garnajet rotating spray heads and a full range of services for tanks with diameters up to 20m.
Odour control
Odour control systems are important for applications as diverse as the following:
Sewage treatment systems
Sludge treatment
Landfill sites (a major application for odour control)
Chemical plants
Foundries
Hospitals
The new website has a major section on the design and installation of bespoke odour control systems (including odour destructive reagents, perfumed and unperfumed sprays). As elsewhere on the site, embedded video shows systems in use.
Industrial spray nozzles and spraying systems made simple
The new website from Sealpump Engineering makes it easy to choose the correct spray nozzles and specify bespoke spraying systems with confidence.
###