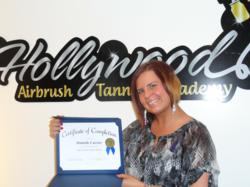 Many students develop their own bad habits down the road, and this is why a Master Airbrush Tanning Certification will give them an opportunity to showcase their spray tanning technique to me
Los Angeles, CA (PRWEB) June 27, 2013
Hollywood Airbrush Tanning Academy has recently started offering a Master Airbrush Tanning Certification program for the former students of the academy who want to make further progress in their career as a spray tanning expert. Danielle Currier from Stillwater, Minnesota has become one of the students of the academy to receive this Master Airbrush Tanning Certification from the Hollywood Airbrush Tanning Academy. This certification program has been created by the academy's founder and chief instructor Simone Emmons for students who want to come back after 6 months of their original training to show that they have implemented everything Simone taught them.
Talking about this Master Airbrush Tanning Certification program, Simone says, "Many students develop their own bad habits down the road, and this is why a Master Airbrush Tanning Certification will give them an opportunity to showcase their spray tanning technique to me." She also mentioned that Danielle Currier, her student from Minnesota did very well on her test and the next step for Danielle would be to become a trainer.
After the completion of her basic course from the Hollywood Airbrush Tanning Academy, Danielle started her own spray tanning salon in Stillwater, Minnesota called Dee's Spray Tan. Describing her experience of running her own salon, Danielle says, "I couldn't have asked for a better business to get into. I love making my own schedule, meeting new people every day, and making clients feel beautiful. This business is definitely booming, and I feel grateful that I am a part of it." She feels that her initial training was extremely informative and helped her become an entrepreneur. "The Master's Training helps correct any habits that may have been formed while providing the most up-to-date information regarding equipment and solutions. I am so happy that I came back. There is always a room for improvement," she added.
The Hollywood Airbrush Tanning Academy is working on developing Danielle to become a future trainer and will soon also start offering their airbrush tanning training programs in Minnesota. Danielle will soon be ready to join them as a trainer for Minnesota. This was confirmed when Danielle mentioned that her next goal was "to become a trainer for the Hollywood Airbrush Tanning Academy! I want to show everyone the joys of this business! There is great opportunity and demand for this in the Midwest."
About Hollywood Airbrush Tanning Academy:
Hollywood Airbrush Tanning Academy is located in Los Angeles, California and offers an extensive Airbrush Tanning Certification program to anyone who wishes to learn the art and business of spray tanning. Simone Emmons, the creator of the spray tanning training program has been a professional, licensed spray tanning technician and teacher and has helped numerous entrepreneurs from Utah, Colorado, Nevada, Minnesota, Arizona, South Carolina, North Carolina, Illinois, Indiana, Washington, Oregon, Florida, Oklahoma, Alaska, California, Canada and the Island of Hawaii and Trinidad start a business in Airbrush Tanning. The spray tanning program is unique because it provides hands-on and private spray tanning training to individuals who want to start an Airbrush Tanning Business. According to Emmons, this spray tanning program gives individuals a leading edge in starting an Airbrush Tanning business immediately after finishing with the training. Students have the option to choose from a full day course of 10-12 hours or two half day courses of 5-6 hours a day or through live video conferencing. The academy is also launching a website soon so students can learn Airbrush Tanning Online. Many tanning training institutions only educate students on their own equipment and products they sell, however Hollywood Airbrush Tanning Academy does not sell any of their own products and provides training and education on all equipment and good products in the airbrush tanning industry. Recently, the academy added an additional trainer to hold airbrush tanning classes on the East Coast. Weekly classes are now also available in Charlotte, North Carolina and Lewisburg, West Virginia.
Individuals interested in learning and starting a career in airbrush tanning should visit the website at HollywoodAirbrushTanningAcademy.com or for more detailed information about the airbrush tanning classes, visit 1DaySprayTanTraining.com.