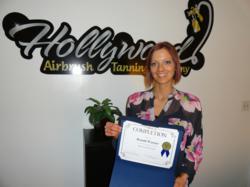 I've always dreamed of owning my own business. Nothing seemed to click until I discovered Airbrush Tanning.
Los Angeles, CA (PRWEB) April 10, 2013
Hollywood Airbrush Tanning Academy has just announced the successful certification of their latest student Brandi Warner. Brandi is presently the proud owner of her own spray tanning business Beautifaux Bronzing, offering spray tanning services in and around Reno and Sparks, Nevada. With successful completion of her certification, Brandi has maintained the legacy of the academy that has trained a number of students in this emerging field of business. Hollywood Airbrush Tanning Academy is a Southern California based training center run by acclaimed airbrush tanning expert Simone Emmons. The hands on training program at her academy helps her students master the advanced spray tanning techniques of sunless tanning.
Brandi is presently a pharmacy technician who holds a Bachelor's degree in Business. Discussing her interest in airbrush tanning, she says, "I've always dreamed of owning my own business. Nothing seemed to click until I discovered this. I am passionate about the concept and want to share it with others." Talking about her future goals as a spray tan technician, she continues, "I want to provide the best service I can to all my clients and do everything I can to cater to them at all times. Educate them, be flexible, be mobile, etc. I want to be well known in Reno and Sparks, Nevada and eventually train new technicians."
Those interested in receiving the highest standard of sunless tanning in Reno and Sparks, Nevada may contact Brandi at 775-391-5229 or visit her website http://www.Beautifauxbronzing.com.
The training certification program offered at the Hollywood Airbrush Tanning Academy is far superior to that offered in most other training centers. Many of the spray tanning training centers across the country just provide a 3-4 hours long sessions offering the basic guidelines to spray tanning. Unlike any of them, Hollywood Airbrush Tanning Academy also shares vital information about different equipment and solutions, adequate ventilation and safety supplies for technicians. Like all students of the academy, Brandi Warner also thanked Hollywood Airbrush Tanning Academy saying, "Simone's perfected technique and the correct solutions to match skin tones will be my asset for the rest of my life."
About Hollywood Airbrush Tanning Academy:
Hollywood Airbrush Tanning Academy is located in Los Angeles, California and offers an extensive Airbrush Tanning Certification program to anyone who wishes to learn the art and business of spray tanning. Simone Emmons, the creator of the spray tanning training program has been a professional, licensed spray tanning technician and teacher and has helped numerous entrepreneurs from Utah, Colorado, Nevada, Minnesota, Arizona, South Carolina, Washington, Oregon, Florida, Oklahoma, California, Canada and the Island of Hawaii and Trinidad start a business in Airbrush Tanning. The spray tanning program is unique because it provides hands-on and private spray tanning training to individuals who want to start an Airbrush Tanning Business. According to Emmons, this spray tanning program gives individuals a leading edge in starting an Airbrush Tanning business immediately after finishing with the training. Students have the option to choose from a full day course of 10-12 hours or two half day courses of 5-6 hours a day or through live video conferencing. The academy is also launching a website soon so students can learn Airbrush Tanning Online. Many tanning training institutions only educate students on their own equipment and products they sell, however Hollywood Airbrush Tanning Academy does not sell any of their own products and provides training and education on all equipment and good products in the airbrush tanning industry.
Individuals interested in learning and starting a career in airbrush tanning should visit the website at HollywoodAirbrushTanningAcademy.com or for more detailed information about the airbrush tanning classes visit 1DaySprayTanTraining.com