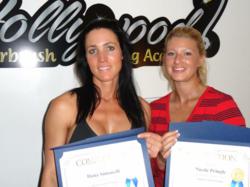 Without Simone's help we would not have been in the position to grow our company the way we wanted to, so thank you
Los Angeles, CA (PRWEB) February 01, 2013
Hollywood Airbrush Tanning Academy continues to play a stellar role in the expansion of spray tanning throughout the country. Another promising spray tanning business has just come to existence under the influence of their top class spray tanning training program. A team of two highly energetic stay-at-home moms from San Diego, California, have just introduced their mobile spray tanning service after receiving training from the nation's most recommended spray tanning training center. Under the business name of Spray Babes, its owners Nicole Pringle and Dana Simonelli are offering now spray tanning services in San Diego, San Marcos, San Elijo Hills, La Costa, Carlsbad, Solana Beach, Encinitas, and Del Mar, California.
Before deciding to start her career as a spray tan specialist, Nicole was a registered nurse. On the other hand, Dana has been an experienced fitness instructor and also has experience in the time share industry. Talking about their new joint venture, Dana says, "We both are stay at home moms with children, and we wanted a job with lots of flexibility. We both live in San Elijo Hills and wanted to bring something to the community that it didn't already have, mobile spray tanning! Being health conscious, this was a healthy alternative to having that gorgeous tan all year long".
It is relevant to mention here that Nicole and Dana had initially opted to get their spray tanning training with another local beauty academy. However, they were totally disappointed with that training and felt that there were many important aspects of spray tanning that were not taught to them. They were not confident to start their business and decided to drive to Los Angeles to retrain with the Hollywood Airbrush Tanning Academy. Simone Emmons, the founder of Hollywood Airbrush Tanning Academy, solved their problem by teaching them all the advanced techniques of airbrush tanning. The academy's training also provides the necessary marketing and promotional support to all the trainees. Academy graduate Nicole Pringle comments, " Without Simone's help we would not have been in the position to grow our company the way we wanted to, so thank you." Spray Babes can be contacted on their website at http://www.spraybabes.com or by calling 858-353-0818 or 760-579-1987.
About the Hollywood Airbrush Tanning Academy:
Hollywood Airbrush Tanning Academy is located in Los Angeles, California and offers an extensive Airbrush Tanning Certification program to anyone who wishes to learn the art and business of spray tanning. Simone Emmons, the creator of the spray tanning training program has been a professional, licensed spray tanning technician and teacher and has helped numerous entrepreneurs from Utah, Colorado, Nevada, Minnesota, Arizona, South Carolina, Oregon, Washington, Oklahoma, Florida, California and the Island of Hawaii and Trinidad start a business in Airbrush Tanning. The spray tan program is unique because it provides hands-on and private spray tanning training to individuals who want to start an Airbrush Tanning Business. According to Emmons, this spray tanning program gives individuals a leading edge in starting an Airbrush Tanning business immediately after finishing with the training. Students have the option to choose from a full day course of 10-12 hours or two half day courses of 5-6 hours a day or through live video conferencing. The academy is also launching a website soon so students can learn Airbrush Tanning Online. Many tanning training institutions only educate students on their own equipment and products they sell, however Hollywood Airbrush Tanning Academy does not sell any of their own products and provides training and education on all equipment and good products in the airbrush tanning industry.
Individuals interested in learning and starting a career in airbrush tanning should visit the website at HollywoodAirbrushTanningAcademy.com or for more detailed information about the course at http://www.1DaySprayTanTraining.com