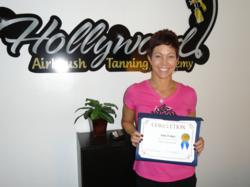 With an increasing number of skin cancer cases due to UV exposure, many tanning enthusiasts now consider airbrush tanning as a viable alternative
Los Angeles, CA (PRWEB) March 19, 2013
Ann Folgo, a former victim of basal cell cancer has now dedicated her career to educate people on the endless benefits of sunless or spray tanning. Ann has just completed her hands on airbrush tanning training at the renowned spray tanning training center Hollywood Airbrush Tanning Academy and is now offering mobile services under the brand name SunGoddess Spray Tan covering the entire Las Vegas and Henderson area. Hollywood Airbrush Tanning Academy has come to prominence in the health and beauty market by helping a number of aspiring spray tan professionals become independent spray tanning business owners. The academy is run by Simone Emmons, an exponent of airbrush tanning with years of experience in this field.
Like many of the previous students from the Hollywood Airbrush Tanning Academy, Ann also comes from an entirely different background. She has been a successful nursing professional since last 25 years, but always had a burning desire to be her own boss. Talking about this shift in her career, Ann says, "I like to get tanned in the summer like most people, and I know first hand the damage the sun can do to your skin because I was a victim of basal cell cancer 15 years ago. I wanted to learn spray tanning so I can educate people on how great you can look without the sun and of course make some money. I have been thinking about doing this for a while and decided now is the time."
Airbrush tanning or spray tanning involves the application of tanning solutions using spray guns without getting exposed to the harmful ultraviolet radiations. With an increasing number of skin cancer cases due to UV exposure, many tanning enthusiasts now consider airbrush tanning as a viable alternative that provides similar looks without the harmful effects. The spray tanning training courses offered by Hollywood Airbrush Tanning Academy are extremely sought after because all techniques of this emerging art are taught in detail by none other than Simone herself. In addition to spray tanning techniques, all trainees also receive top class promotional and branding support from Simone.
Those interested in receiving high quality spray tanning service in Las Vegas and Henderson may call Ann at 702-588-2931 or visit her website http://www.sungoddessspraytan.com.
About Hollywood Airbrush Tanning Academy:
Hollywood Airbrush Tanning Academy is located in Los Angeles, California and offers an extensive Airbrush Tanning Certification program to anyone who wishes to learn the art and business of spray tanning. Simone Emmons, the creator of the spray tanning training program has been a professional, licensed spray tanning technician and teacher and has helped numerous entrepreneurs from Utah, Colorado, Nevada, Minnesota, Arizona, South Carolina, Washington, Oregon, Florida, California and the Island of Hawaii and Trinidad start a business in Airbrush Tanning. The spray tanning program is unique because it provides hands-on and private spray tanning training to individuals who want to start an Airbrush Tanning Business. According to Emmons, this spray tanning program gives individuals a leading edge in starting an Airbrush Tanning business immediately after finishing with the training. Students have the option to choose from a full day course of 10-12 hours or two half day courses of 5-6 hours a day or through live video conferencing. The academy is also launching a website soon so students can learn Airbrush Tanning Online. Many tanning training institutions only educate students on their own equipment and products they sell, however Hollywood Airbrush Tanning Academy does not sell any of their own products and provides training and education on all equipment and good products in the airbrush tanning industry.
Individuals interested in learning and starting a career in airbrush tanning should visit the website at http://www.HollywoodAirbrushTanningAcademy.com or for more detailed information about the course at 1DayAirbrushTanningTraining.com.