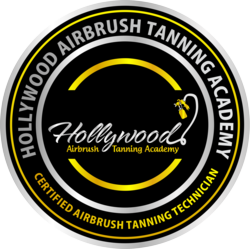 We look forward to organizing classes regularly in this part of the country. We are also looking at the possibility of expanding to several other locations in West Virginia and North Carolina
Los Angeles, California (PRWEB) May 23, 2013
Hollywood Airbrush Tanning Academy continues its illustrious journey in America's beauty and wellness community. The Southern California based training center has just announced that they are about to conduct a two half day airbrush tanning training class in Union, West Virginia on the 8th and 9th of June, 2013. Hollywood Airbrush Tanning Academy's hands-on spray tanning certification program is extremely sought after amongst people looking to build a rewarding career in this emerging field. The academy has recently started expanding to other cities in order to help spray tanning enthusiasts who are not able to travel to Los Angeles to attend their certification program.
Simone Emmons, a renowned airbrush tanning professional and mentor, laid the foundation stone of the Hollywood Airbrush Tanning Academy in the year 2011. Till very recent times, Simone has been the sole instructor of her academy. Simone's busy schedule as a professional spray tanning training expert meant only a handful of trainees could benefit from her weekly training sessions. Moreover, the Hollywood Airbrush Tanning Academy has always opted for quality over quantity. The academy has recently recruited their former student Kristi Walker to carry out spray tanning training programs in Chicago, Illinois, Charlotte, North Carolina and Union, West Virginia.
During the hands-on training program, the students will be given ample opportunity to master the art of sunless tanning by spray tanning 3-4 models. The program content will be exactly the same as that offered by the academy in Los Angeles. This is certainly a great opportunity for aspiring airbrush tanning professionals in this region to become successful entrepreneurs in this rapidly growing industry. The upcoming airbrush tanning certification class in Union, West Virginia is available to only two students and only one slot remains available at present as the other one has already been claimed by one student coming from Washington, DC.
With growing consciousness about the ill effects of conventional tanning, spray or airbrush tanning has now become the next big thing for the tanning industry. As a result, there is an increasing demand all over the country for certified spray tanning specialists. Hollywood Airbrush Tanning Academy not only teaches their students to learn all aspects of sunless tanning, but also helps them with branding and marketing support. Many students of this academy are now successful airbrush tanning business owners.
Talking about the academy's upcoming classes in Union, West Virginia, Simone says, " We are excited to offer our classes here with our new trainer Kristi. We look forward to organizing classes regularly in this part of the country. We are also looking at the possibility of expanding to several other locations in West Virginia and North Carolina".
About Hollywood Airbrush Tanning Academy:
Hollywood Airbrush Tanning Academy is located in Los Angeles, California and offers an extensive Airbrush Tanning Certification program to anyone who wishes to learn the art and business of spray tanning. Simone Emmons, the creator of the spray tanning training program has been a professional, licensed spray tanning technician and teacher and has helped numerous entrepreneurs from Utah, Colorado, Nevada, Minnesota, Arizona, South Carolina, North Carolina, Washington, Oregon, Florida, Oklahoma, California, Canada and the Island of Hawaii and Trinidad start a business in Airbrush Tanning. The spray tanning program is unique because it provides hands-on and private spray tanning training to individuals who want to start an Airbrush Tanning Business. According to Emmons, this spray tanning program gives individuals a leading edge in starting an Airbrush Tanning business immediately after finishing with the training. Students have the option to choose from a full day course of 10-12 hours or two half day courses of 5-6 hours a day or through live video conferencing. The academy is also launching a website soon so students can learn Airbrush Tanning Online. Many tanning training institutions only educate students on their own equipment and products they sell, however Hollywood Airbrush Tanning Academy does not sell any of their own products and provides training and education on all equipment and good products in the airbrush tanning industry. Recently, the academy added an additional trainer to hold airbrush tanning classes on the East Coast.
Individuals interested in learning and starting a career in airbrush tanning should visit the website at HollywoodAirbrushTanningAcademy.com or for more detailed information about the airbrush tanning classes, visit 1DayAirbrushTanningTraining.com or text/call (818) 674-9621.