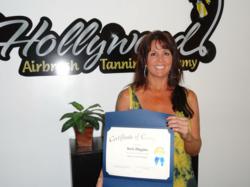 Not many other spray tanning experts are willing to train people close to them because they are afraid of competition, but Simone was happy to help another woman get started in this highly profitable business
Los Angeles, CA (PRWEB) December 05, 2012
Yet another student of the Hollywood Airbrush Tanning Academy has just stepped into the emerging business field of airbrush tanning. Kristen Higgins from Burbank, California has just graduated from the academy to start her own independent spray tanning business. One may recall that the academy has been involved in the creation of many new spray tanning businesses through their students in the last few months. Apart from mastering the techniques of airbrush tanning, the students of the academy receive all necessary support to start a new business. Simone Emmons, a highly proficient spay tanning expert and the founder of the academy; has been the chief architect of the remarkable success of the Hollywood Airbrush Tanning Academy.
Kristen's journey to become a spray tanning expert is highly commendable, one because she comes from a completely different background. The recently divorced stay at home mom of three children has spent 16 years of her life as a dental assistant. In search of new rewarding career to raise her children, she put herself through an esthetician school but did not want to work for someone else and this is how she decided to learn Airbrush Tanning and start her own business. "I searched the internet for some sort of training and Simone's Hollywood Airbrush Tanning Academy kept coming up. I was very impressed with her website and set up an appointment to see her in person. Her teaching technique is amazing as is her personality. She made me feel so comfortable and confident and is always available for phone calls and questions. I have had many clients now and not one bad review because of the technique she teaches" she says, talking about Simone and her training classes.
Kristen's new business named "Spray Tan Angel" is presently operating successfully in Burbank and covers Los Angeles, San Fernando, Valencia, and Santa Clarita. Her business is located very close to Simone's own spray tanning business in Studio City. Not many other spray tanning experts are willing to train people close to them because they are afraid of competition, but Simone was happy to help another woman get started in this highly profitable business. She praised Kristen highly for her persistence and hard work saying, "Kirsten is a lady with a lot of courage and character. I am really happy for her success and wish her all the best". Kristen is also mobile and can come to the office or home. She can be contacted 818-679-2072 or on Facebook by searching for her fan page by the name of "Spray Tan Angel".
About Hollywood Airbrush Tanning Academy:
Hollywood Airbrush Tanning Academy is located in Los Angeles, California and offers an extensive Airbrush Tanning Certification program to anyone who wishes to learn the art and business of spray tanning. Simone Emmons, the creator of the spray tanning training program has been a professional, licensed spray tanning technician and teacher and has helped numerous entrepreneurs from Utah, Colorado, Nevada, Minnesota, Arizona, South Carolina, Oregon, Florida, California and the Island of Hawaii and Trinidad start a business in Airbrush Tanning. The spray tan program is unique because it provides hands-on and private spray tanning training to individuals who want to start an Airbrush Tanning Business. According to Emmons, this spray tanning program gives individuals a leading edge in starting an Airbrush Tanning business immediately after finishing with the training. Students have the option to choose from a full day course of 10-12 hours or two half day courses of 5-6 hours a day or through live video conferencing. The academy is also launching a website soon so students can learn Airbrush Tanning Online. Many tanning training institutions only educate students on their own equipment and products they sell, however Hollywood Airbrush Tanning Academy does not sell any of their own products and provides training and education on all equipment and good products in the airbrush tanning industry.
Individuals interested in learning and starting a career in airbrush tanning should visit the website at http://www.HollywoodAirbrushTanningAcademy.com or for more detailed information about the course at http://www.1DaySprayTanTraining.com