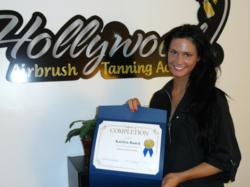 Airbrush tanning is a safe alternative compared to indoor or outdoor tanning. It's a quick approach to get a flawless and glowing look instantly.
Los Angeles, California (PRWEB) May 27, 2013
America's favorite sunless tanning training destination Hollywood Airbrush Tanning Academy has just announced the certification of their student Katelyn Runck from Fargo, North Dakota. Since the inception of the academy in 2011, Hollywood Airbrush Tanning Academy has helped many aspiring airbrush tanning professionals from all over the United States to launch their own independent business as a certified spray tanning expert. This Southern California based training academy is run my America's most prodigious spray tanning specialist Simone Emmons. In addition to learning the advanced spray tanning techniques, the students also receive top class marketing and business support from the Hollywood Airbrush Tanning Academy.
In the recent months, many experienced professionals from different backgrounds have received training from the Hollywood Airbrush Tanning Academy. Their recent graduate Katelyn Runck is a licensed medical esthetician, certified permanent make up artist, and a certified laser technician. Now she plans to continue her career path by obtaining top line education for the services/procedures and products she provides for her clients. Talking about her decision to learn airbrush tanning, Katelyn says," Airbrush tanning is a safe alternative compared to indoor or outdoor tanning. It's a quick approach to get a flawless and glowing look instantly. It's such a great thing for people who are looking for healthy alternatives. It will keep you feeling and looking young without the damage being done to your skin".
To receive top class spray tanning service in Fargo, North Dakota, please call Katelyn Runck at 701-367-7629.
Like many spray tanning enthusiasts throughout the country, Katelyn's long term plan is to educate her clients about this up and coming service, which is becoming more popular every day. She wants to give each of her clients the best personal service by giving them a specific customized tan so they'll have their needs met every time. She wants her clients to walk out of her door feeling good about themselves. The training received at Hollywood Airbrush Tanning Academy will certainly provide her the required skills to accomplish her goal.
Discussing the most important benefits of getting trained at the Hollywood Airbrush Tanning Academy, she says, "Their training helped me recognize all the health precautions to consider before a spray tan; safety is first. I had amazing hands on training and education to become a unique spray tanning professional in the industry".
About Hollywood Airbrush Tanning Academy:
Hollywood Airbrush Tanning Academy is located in Los Angeles, California and offers an extensive Airbrush Tanning Certification program to anyone who wishes to learn the art and business of spray tanning. Simone Emmons, the creator of the spray tanning training program has been a professional, licensed spray tanning technician and teacher and has helped numerous entrepreneurs from Utah, Colorado, Nevada, Minnesota, Arizona, South Carolina, Washington, Oregon, Florida, Oklahoma, North Dakota, California, Canada and the Island of Hawaii and Trinidad start a business in Airbrush Tanning. The spray tanning program is unique because it provides hands-on and private spray tanning training to individuals who want to start an Airbrush Tanning Business. According to Emmons, this spray tanning program gives individuals a leading edge in starting an Airbrush Tanning business immediately after finishing with the training. Students have the option to choose from a full day course of 10-12 hours or two half day courses of 5-6 hours a day or through live video conferencing. The academy is also launching a website soon so students can learn Airbrush Tanning Online. Many tanning training institutions only educate students on their own equipment and products they sell, however Hollywood Airbrush Tanning Academy does not sell any of their own products and provides training and education on all equipment and good products in the airbrush tanning industry. Recently, the academy added an additional trainer to hold airbrush tanning classes on the East Coast. Weekly classes are now also available in Charlotte, North Carolina and Lewisburg, West Virginia.
Individuals interested in learning and starting a career in airbrush tanning should visit the website at HollywoodAirbrushTanningAcademy.com or for more detailed information about the airbrush tanning classes visit 1DayAirbrushTanningTraining.com