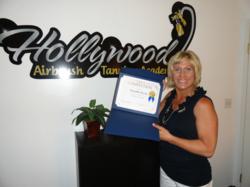 Simone helped me master the art of choosing the proper solution for various skin types so they will be golden and not orange, and to learn the proper spray tan technique for an even and streak free tan
Los Angeles, California (PRWEB) May 14, 2013
One more student from the Hollywood Airbrush Tanning Academy has entered the growing business field of airbrush tanning. The renowned spray tanning training center's latest graduate Meredith Myrick has recently launched her own business Meredith's Custom Spray Tanning under the guidance of the Hollywood Airbrush Tanning Academy. The Los Angeles based academy offers a hands-on spray tanning certification program tailor-made to help students learn the advanced spray technique of sunless tanning. The students also receive valuable marketing and business support from them. The Hollywood Airbrush Tanning Academy was founded in 2011 by Simone Emmons, one of the most eminent airbrush tanning experts all over the country. Simone's expertise, knowledge, and compassionate nature has made her academy the most preferred one in no time.
Meredith Myrick is an experienced professional from the travel industry with three decades of experience. Three years ago, Meredith became a licensed Esthetician which licensing is required for spray tanning professionals in Oregon. Now, she is looking to make it big in the rapidly growing field of spray tanning. Meredith opted for airbrush tanning as her business avenue because she wants to help people look and feel incredible without the harmful UV rays. Talking about her business goals, Meredith says, "I want to build a successful custom spray tanning business and blend with esthetics and small group travel".
To receive Hollywood style spray tans in Grants Pass, Rogue River and Medford, Oregon, contact Meredith at 541-761-2968 or visit http://www.Meredithscustomspraytans.com.
The adverse impacts of traditional tanning are now known to all. As a result, many tanning enthusiasts are now looking for sunless tanning. Airbrush or spray tanning is a process which can provide the same result without any negative impact on health. There has been an increasing demand all over the country for certified spray tanning professionals in the recent years and the Hollywood Airbrush Tanning Academy has taken the pioneering role in producing the nation's most proficient airbrush tanning technicians. Discussing the unique benefit of her training at the Hollywood Airbrush Tanning Academy, Meredith said, " Simone helped me master the art of choosing the proper solution for various skin types so they will be golden and not orange, and to learn the proper spray tan technique for an even and streak free tan".
About Hollywood Airbrush Tanning Academy:
Hollywood Airbrush Tanning Academy is located in Los Angeles, California and offers an extensive Airbrush Tanning Certification program to anyone who wishes to learn the art and business of spray tanning. Simone Emmons, the creator of the spray tanning training program has been a professional, licensed spray tanning technician and teacher and has helped numerous entrepreneurs from Utah, Colorado, Nevada, Minnesota, Arizona, South Carolina, Washington, Oregon, Florida, Oklahoma, California, Canada and the Island of Hawaii and Trinidad start a business in Airbrush Tanning. The spray tanning program is unique because it provides hands-on and private spray tanning training to individuals who want to start an Airbrush Tanning Business. According to Emmons, this spray tanning program gives individuals a leading edge in starting an Airbrush Tanning business immediately after finishing with the training. Students have the option to choose from a full day course of 10-12 hours or two half day courses of 5-6 hours a day or through live video conferencing. The academy is also launching a website soon so students can learn Airbrush Tanning Online. Many tanning training institutions only educate students on their own equipment and products they sell, however Hollywood Airbrush Tanning Academy does not sell any of their own products and provides training and education on all equipment and good products in the airbrush tanning industry. Recently, the academy added an additional trainer to hold airbrush tanning classes on the East Coast. Weekly classes are now also available in Charlotte, North Carolina and Lewisburg, West Virginia. Additional training is also scheduled in Chicago, Illinois in June 2013.
Individuals interested in learning and starting a career in airbrush tanning should visit the website at HollywoodAirbrushTanningAcademy.com or for more detailed information about the airbrush tanning classes visit 1DayAirbrushTanningTraining.com.