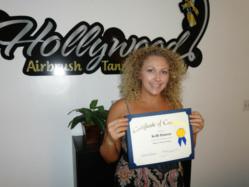 Los Angeles, CA (PRWEB) March 21, 2013
One more trainee from the Hollywood Airbrush Tanning Academy has just entered the rapidly expanding field of airbrush or spray tanning. Over the last few years, this advanced style of tanning has gained groundbreaking popularity amongst tanning enthusiasts. Hollywood Airbrush Tanning Academy is Southern California's premier training center run by America's favorite spray tanning technician Simone Emmons. Simone's career oriented airbrush tanning training has been a major factor behind the rapid growth of spray tanning as a highly promising career avenue. The latest graduate of the Academy Kelli Hansen is now proudly carrying the remarkable reputation of the academy. She has just launched her mobile and in-studio tanning business Sun Shy Airbrush Tanning.
Kelli is a highly dedicated wife and mother who always had a burning desire to become an airbrush tanning technician. Talking about her interest in this relatively new form of tanning, Kelli says, "I started out doing self-tanning lotions then moved on to mystic tan, always searching for the golden ticket to be bronze. The first time I ran across airbrush tanning, I knew it was for me! My first airbrush tan was everything I hoped it would be. I have always wanted something of my own in the business world." Revealing her business goal, she also added, "My goal is to raise the bar by increasing the quality and attention to detail in the airbrush tanning industry. My mission is to provide my clients with a consistent, natural looking tan that compliments your individual skin type and personal preference!"
Kelli has also thanked Simone for the excellent training session saying, "The most beneficial thing I got from the training is the basic knowledge and skill needed to do a proper airbrush tan." The beauty and wellness industry all over the country is presently abuzz with the endless benefits of airbrush tanning. This type of tanning doesn't pose any threat to the skin and can be completed within just 10 minutes. With the launch of Kelli's Sun Shy Airbrush Tanning, this facility is now available in Corona, East Vale, Hemet, Jurupa Valley, Lake Elsinore, Menifee, Moreno Valley, Murrieta, Norco, Perris, Riverside, San Jacinto, Temecula, Wild Omar, Big Bear Lake, Crestline, and Lake Arrowhead. To receive flawless spay tanning services in these areas, please call Kelli at 951-233-4583 or visit http://www.sunshyairbrushtanning.com.
About Hollywood Airbrush Tanning Academy:
Hollywood Airbrush Tanning Academy is located in Los Angeles, California and offers an extensive Airbrush Tanning Certification program to anyone who wishes to learn the art and business of spray tanning. Simone Emmons, the creator of the spray tanning training program has been a professional, licensed spray tanning technician and teacher and has helped numerous entrepreneurs from Utah, Colorado, Nevada, Minnesota, Arizona, South Carolina, Washington, Oregon, Florida, Oklahoma, California and the Island of Hawaii and Trinidad start a business in Airbrush Tanning. The spray tanning program is unique because it provides hands-on and private spray tanning training to individuals who want to start an Airbrush Tanning Business. According to Emmons, this spray tanning program gives individuals a leading edge in starting an Airbrush Tanning business immediately after finishing with the training. Students have the option to choose from a full day course of 10-12 hours or two half day courses of 5-6 hours a day or through live video conferencing. The academy is also launching a website soon so students can learn Airbrush Tanning Online. Many tanning training institutions only educate students on their own equipment and products they sell, however Hollywood Airbrush Tanning Academy does not sell any of their own products and provides training and education on all equipment and good products in the airbrush tanning industry.
Individuals interested in learning and starting a career in airbrush tanning should visit the website at http://www.HollywoodAirbrushTanningAcademy.com or for more detailed information about the airbrush tanning classes visit 1DaySprayTanTraining.com.