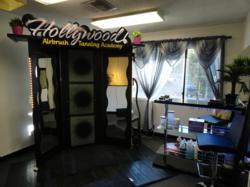 I am currently renovating the new location with new windows, doors, fresh paint and new lighting, and I am looking forward to expand more in the near future
Studio City, CA (PRWEB) May 30, 2013
Simone's Airbrush Tanning, a highly popular spray tanning salon owned and operated by Simone Emmons, is soon set to make a move to a new location. Simone Emmons is one of America's most eminent airbrush tanning technicians and has the distinction of spray tanning many Hollywood celebrities, models and sports personalities with a great track record. Through her spray tanning institution Hollywood Airbrush Tanning Academy, Simone also helps aspiring spray tanning professionals to master the business and spray tanning techniques of sunless tanning. At present, Simone's Airbrush Tanning operates out of 3760 Cahuenga Blvd. West, Suite 202, Studio City/Universal City, CA 91604. According to available information, the new office of the salon will be located at 12500 Riverside Drive, Suite 213, Studio City/Valley Village, CA 91607.
Talking about her decision to shift to a new location, Simone says, "My new studio is not too far away from my current location and is on the second floor, right on top of the Hookah lounge. The reason for the move is to expand and move to a bit larger location and very conveniently located in Studio City/Valley Village which is right next to Sherman Oaks, California. I am currently renovating the new location with new windows, doors, fresh paint and new lighting, and I am looking forward to expand more in the near future."
With Whitsett Avenue as the cross street, this new studio of Simone's Airbrush Tanning is located in the same shopping center as the popular Cardio Barre studio, a place frequented by women who love to spend time working out.
Many tanning enthusiasts have now accepted airbrush tanning as the safest alternative to traditional tanning because it does not involve exposure to the ultraviolet radiations from the Sun. Simone's Airbrush Tanning is a highly sought after destination for them because only the highest grade of tanning solutions are used by Simone. Simone is always on the lookout for new equipment and products to enhance the customer experience. Simone's spray tanning service is also available for mobile tanning in the home and spray tanning parties in the cities of Toluca Lake, North Hollywood, Studio City, Sherman Oaks.
Talking about her probable date of shifting to the new studio, Simone said, "I have not decided yet when I will move in because it will depend on when the construction will be completed. But I'm hoping it will be in the middle of June 2013."
About Simone's Airbrush Tanning:
Simone's Airbrush Tanning is a popular airbrush tanning business located in Studio City, California. In addition to in studio spray tanning sessions, Simone's Airbrush Tanning also provides mobiles airbrush tanning services in Sherman Oaks, North Hollywood, Toluca Lake & West Toluca Lake, Universal City, Studio City, Hollywood Hills, Encino, Valley Village, Burbank, Glendale, Van Nuys, Tarzana, Woodland Hills. Simone also offers her service for spray tanning parties. Simone Emmons is a licensed and certified spray tan technician and also the founder and trainer of the Hollywood Airbrush Tanning Academy.