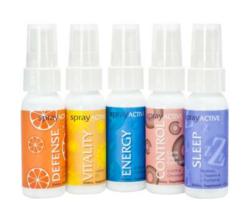 (PRWEB) June 13, 2013
Spray Active™ is thrilled to announce the launch of http://www.sprayactive.com and its line of five new spray vitamins. The Spray Active™ line of oral sprays is designed to deliver the right dose of nutrients every time–just spray twice under the tongue and swallow. The 5 sprays are:
*Defense: Vitamin C, Zinc and Echinacea for immune support
*Vitality: Vitamin D3 for building strong bones and enhancing muscle strength
*Sleep: Melatonin, L-Theanine and L-Tryptophan for a better night's sleep
*Control: 5-HTP and Chromium for helping to reduce cravings and suppress the appetite
*Energy: B-Multi and Ginseng for boosting energy levels and promoting mental alertness
According to the Physician's Desk Reference for Nonprescription Drugs and Dietary Supplements, oral absorption is much more efficient than other forms of dietary supplement delivery. In fact, intra-oral sprays like Spray Active™ are nine times more readily absorbed than a pill. With Spray Active™, the body benefits instantly. Spray Active™ is dose-controlled and absorption of the nutrients begins as soon as it's sprayed under the tongue. This gives the body its initial dose. Then, when swallowed, the remaining nutrients are easily digested in the stomach. The liquid form is free from most binders and inert ingredients that pills and capsules typically need to retain their shape, so with Spray Active™ the stomach doesn't have to digest as much to provide the body with the nutrients it needs.
Spray vitamins are great for anyone who dislikes taking large pills or capsules. The quick spray mechanism is simple for everyone to use. And, for those who have issues digesting pills, Spray Active™ is easy for the body to absorb and digest. Spray Active™ sprays were developed by a PhD using the latest science, and they are made to the same high standards as pharmaceuticals, complying with the current Good Manufacturing Practices (cGMP) established by the FDA.
Spray Active™ sprays are the perfect option for anyone who is health conscious–two of our sprays are even great for kids (who will love the flavors). They are small (carry them anywhere), sugar-free, and natural (no caffeine or stimulants).
Spray Active™ products are available for purchase on http://www.sprayactive.com and range from $14.95 to $16.95. In addition to the five individual sprays, Spray Active™ also has five packages that are bundled to be cost-effective.
Get Healthy. Get Going. Get Spray Active™.