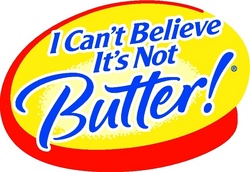 Things need to change in this fridge, and my great butter taste will make that change possible
ENGLEWOOD CLIFFS, N.J. (PRWEB) July 2, 2008
In the latest twist to a race that's been dishing plenty of drama two important Spraychel supporters left the campaign under unexplained circumstances. In a sudden move, Howard Bean withdrew his support just before the Spray Party convention. Bean's departure was further worsened when Gus (a.k.a. Asparagus), a once loyal Spraychel aide, fled campaign headquarters abruptly after seeing a mysterious Butterman campaign commercial. According to inside sources, Spraychel and her campaign manager, Mr. More, suspect that greasy, underhanded tactics from Butterman's cronies are behind the Spray Party defections.
"Spraychel isn't letting the recent developments get to her," said campaign manager, Mr. More. "She's been on a whistlestop tour across the refrigerator, making appearances on every shelf and spraying countless baby carrots." Spraychel has also hit the media circuit and was praised for her recent appearance on the Okra's popular daytime talk show.
"Things need to change in this fridge, and my great butter taste will make that change possible," said Spraychel. "After all, with 0g fat and 0 calories per serving*, I will work with all the foods of the fridge to make everyone happy and satisfied."
Watch the campaign drama unfold by visiting http://www.VoteSpraychel.com. Join the Spray Party by casting your vote for Spraychel, playing online games, and rallying your friends in support of the Spray Party. Voting for Spraychel will earn you the chance to win a presidential salary of $400,000, while playing the online games provides daily chances to win instantly and additional entries into the grand prize sweepstakes.** Each time you visit http://www.VoteSpraychel.com to watch and vote for Spraychel or to play games, you increase your chances of winning.
Don't miss out on the campaign action. See what happens next Monday, July 7th on VoteSpraychel.com.
*0g fat, 0g saturated fat per serving
**No purchase necessary. Void where prohibited. I Can't Believe It's Not Butter!(R) Spraychel for President Sweepstakes & Instant Win Game is sponsored by Conopco, Inc., d/b/a Unilever. Open to legal residents of the 50 U.S. states & Washington, D.C., 18 & older. Begins 12:00:01 p.m. ET on 6/23/08 & ends 11:59:59 p.m. ET on 7/27/08. For official rules visit http://www.votespraychel.com.
About Unilever
Unilever's mission is to add vitality to life. We meet everyday needs for nutrition, hygiene and personal care with brands that help people feel good, look good and get more out of life. Each day, around the world, consumers make 160 million decisions to purchase Unilever products.
In the United States, the portfolio includes major brand icons such as: Axe, "all," Ben & Jerry's, Bertolli, Breyers, Caress, Country Crock, Degree, Dove personal care products, Hellmann's, Klondike, Knorr, Lipton, Popsicle, Promise, Q-Tips, Skippy, Slim-Fast, Snuggle, Suave, Sunsilk and Vaseline. All of the preceding brand names are registered trademarks of the Unilever Group of Companies. Dedicated to serving consumers and the communities where we live, work and play, Unilever employs more than 14,000 people in both the United States and Puerto Rico - generating nearly $11 billion in sales in 2007. For more information, visit http://www.unileverusa.com.
Keyword Tags:
campaign, can't believe it's not butter spray, convention, coupon, games, online coupon, online marketing campaign, pr campaign, president, presidential campaign, spraychel, vote