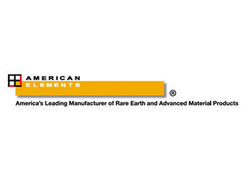 Los Angeles (PRWEB) July 16, 2008
Los Angeles-based American Elements will begin offering spray dried forms of all its metallic oxide and carbide powder products and many of its other compounds. Spray dried powders from American Elements allow customers to control particles size and morphology, particle distribution, and the surface area of the powder. The new products were necessitated due to numerous recent developments in ceramic tape casting and pressing methods. Additionally, coatings and thick film technology and equipment require powders with extremely narrow particle distributions to avoid delivery system interruptions.
Spray dried powders are produced by atomization of a liquid suspension containing the relevant powder and a selected binder to agglomerate the particles during the spray drying process. American Elements will consult and produce representative samples of proposed powders and provide documentation certifying the particle size and the distribution of the powder.
American Elements is a global manufacturer and developer of engineered and advanced materials with online catalogue at http://www.americanelements.com. For further technical and pricing information on spray drying services, please contact your local American Elements distributor or American Elements U.S. corporate headquarters at (1)310-208-0551, FAX (1)310-208-0351 or customerservice @ americanelements.com.
###