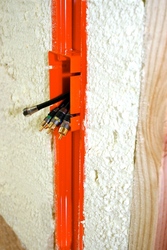 Beyond the Demarcation Point: Designing the Home for FTTH
Essex, CT (PRWEB) July 7, 2009
The eXapath in-wall cable pathway system from Homepath Products is featured this month as a "Game Changing Technology" by Broadband Properties magazine, the company announced today. In an article entitled "Beyond the Demarcation Point: Designing the Home for FTTH" in the May/June issue, the eXapath system is highlighted as an innovative solution that prepares homes for more data rich consumer electronics and information services. eXapath is a system of bright orange cabling pathways that snap in at the time framing is up and walls are open. When installed prior to the addition of line voltage and spray foam insulation, the system optimizes the walls for energy conservation while ensuring the flexibility to modify cabling infrastructure, simply, easily and cost effectively.
The article notes that, when buying consumer electronics, few people envision making a permanent decision or that the device will never be replaced. However, homes are still built under the assumption that low voltage wiring serving these devices will be permanent. The article describes a better way to install cabling to accommodate future service expansions and to capture nearly all of the future upgrade costs at the time of construction. A complimentary copy of the article can be downloaded by clicking here.
The Broadband Properties Magazine article further points out that, although telecommunications companies are focused on clearing the "first mile" to bring fiber optics and other high bandwidth services to homes (like high-speed Fiber-To-The-Home [FTTH] and advanced DOCSIS 3.0 cable infrastructure), the industry has largely ignored what will happen with all that bandwidth once it gets to the inside of the dwelling. The industry has identified the next wave of high demand data services - faster internet, high definition streaming video and audio, and growth in telecommuting and telepresence, -- but has not considered the impact of these services to low voltage wiring within the home. eXapath enables the simple and low cost adoption of tomorrow's improved telecommunications services and other low voltage needs such as whole-house audio, video distribution, security and home automation.
Homepath Products LLC, a privately-held business based in Essex, Connecticut, designs and markets the eXapath nonmetallic pathway system, an elegant solution made in the USA to enable upgrading residential low voltage cabling. eXapath pathways are practical today...prepared for tomorrow™. The company's web site, http://www.homepathproducts.com, features product information, white papers, industry trends and additional information about the future of low voltage home cabling.
###